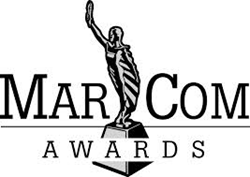 Rolling Meadows, Ill. (PRWEB) December 17, 2015
The American Society for Dermatologic Surgery and American Society for Dermatologic Surgery Association were recognized with 14 awards – including three Platinums – in the 2015 MarCom Awards competition.
The MarCom Awards is an international competition administered and judged by the Association of Marketing and Communication Professionals. This year's competition received about 6,500 entries representing more than a dozen countries.
MarCom judges are marketing and communications professionals charged with selecting winners "whose work serves as a benchmark for the industry."
ASDS/ASDSA President Naomi Lawrence, M.D., was heartened by the breadth of Society initiatives that merited recognition.
"From our unmatched educational offerings to our wide-ranging work combating skin cancer to our unwavering advocacy efforts on behalf of dermatologic surgeons and their patients, ASDS and ASDSA have so many excellent stories to tell," Lawrence said. "Our Society is doing a great job of that, and it's wonderful to see those efforts noticed by others."
MarCom's top honor – the Platinum Award – was presented to the Society in three categories:

Currents as one of the best association magazines.
Fluence as a top association annual report overall and for its print design.
Gold Awards were presented to ASDS for the following:

Annual report writing: Fluence, the 2014 Annual Report. The 36-page document featured the organization's top accomplishments.
Direct mail brochure: ASDS Practice Management, Marketing and Social Media course mailer. The brochure – featuring innovative course titles, faculty highlights and testimonials – was mailed to ASDS members and dermatology office staff.
Employee training manual: ASDS Style Guide. This 34-page document – issued to all new employees – outlines the Society's branded style guidelines.
Informational web video: ASDS Consumer Survey. This first-ever Society news video was released in conjunction with the third annual results of the survey that reflects the motivations and influences of consumers considering cosmetic medical procedures.
PowerPoint presentation: ASDS Business Meeting PowerPoint. The 79-slide presentation featuring multiple videos was shown at the 2014 ASDS Annual Meeting in San Diego.
ASDS and ASDSA also won six Honorable Mention MarCom Awards:

Advocacy group external newsletter: ASDSA monthly e-newsletter. The newsletter strives to keep members up-to-date on government and practice issues.
Direct mail brochure: ASDS Annual Meeting preview brochure. The brochure was targeted to ASDS members who have not recently attended the meeting and non-member dermatologists.
Educational web video: "Fight back against skin cancer with an ASDS member dermatologist." This two-minute video – featuring basketball coach Lisa Pace's battle against skin cancer – is being used as part of the ASDS branding campaign.
Public relations brochure: 2014-15 ASDS Experts Guide. This inaugural version of the Experts Guide – which helps connect ASDS experts with media members for interviews – features more than 70 member bios and was distributed to media nationwide.
Television public service announcement: ASDS skin cancer PSA focusing on sun-safe behaviors for men. This 30-second PSA was produced as the ASDS Future Leaders Network project of Terrence Keaney, M.D. The Future Leaders Network helps groom the next generation of leaders in dermatologic surgery by pairing them with mentors and providing hands-on project management experience.
Television public service announcement: ASDS skin cancer PSA focusing on the dangers of indoor tanning. This 30-second PSA features the story of basketball coach Lisa Pace, a self-described tan-oholic who is battling skin cancer.
About ASDS
The American Society for Dermatologic Surgery is the largest specialty organization exclusively representing dermatologic surgeons who have unique training and experience to treat the health, function and beauty of your skin. ASDS members are pioneers in the field. Many are involved in the clinical studies that bring popular treatments to revitalize skin and fill and diminish wrinkles to the forefront. Their work has helped create and enhance many of the devices that remove blemishes, hair and fat, and tighten skin. Dermatologic surgeons also are experts in skin cancer prevention, detection and treatment. As the incidence of skin cancer rises, dermatologic surgeons are committed to taking steps to minimize the life-threatening effects of this disease. For more information, visit asds.net.
About ASDSA
With a membership of nearly 6,100 physicians, the American Society for Dermatologic Surgery Association, a 501(c)6 association, was created to promote the educational and professional interests of dermatologic surgeons; provide a vehicle for advocacy and public education efforts on behalf of dermatologic surgeons and their patients; and address socioeconomic issues that impact the practice of dermatologic surgery as a specialty. The American Society for Dermatologic Surgery Association advocates for patient safety and access to quality care, skin cancer prevention and education, and fair and appropriate office-based surgery regulation.
Follow us:
Website: asds.net
Follow ASDS on Twitter: twitter.com/ASDSSkinExperts
Become a fan of ASDS on Facebook: facebook.com/ASDSSkinExperts
Locate a dermatologic surgeon in your area: asds.net/findadermatologist.aspx
Contact:
Jay Schwab
Communications Manager
American Society for Dermatologic Surgery
jschwab(at)asds(dot)net
847-956-9143