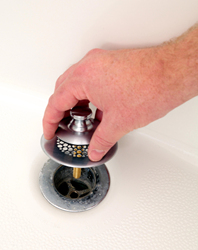 "The Universal NuFit bathtub drain cover makes old drains look new in minutes. It quickly installs over the old drain, looks great and functions well," Kurt Raedle, Watco National Sales Manager
Independence, MO (PRWEB) December 17, 2015
Watco Manufacturing's Universal NuFit bathtub drain cover was selected by Contractor Magazine as a Top Product of the Year. http://contractormag.com/media-galleries/products-year-editors-choice#slide-1-field_images-413101 The Universal NuFit makes old tub drains look new in minutes. It installs over old bathtub drains without requiring removal of the strainer body. The cover resists corrosion, is offered in nine designer finishes to match bathroom fixtures and features a high-flow grid strainer to prevent hair clogs.
"The Universal NuFit tub drain cover solves the problems of ugly tub drains and leaky stoppers and prevents hair and razor caps from entering the drain. Consumers love it because it functions well, looks great and installs in less than three minutes. This product is great for remodels, repairs and is also helpful for apartments and hotels," says Kurt Raedle, National Sales Manager of Watco Manufacturing. The Universal NuFit is available at all Menards stores in the Midwest and on HomeDepot.com, Lowes.com and Buyeagle.biz.
Contractor Magazine Products of the Year are selected by Contractor editors; selection is based on data from reader service inquiries to the print editions and page views from online editions.
About Watco Manufacturing
Watco Manufacturing is the leading manufacturer of bathtub products including bathtub drains, bathtub stoppers, bathtub trim kits and bath waste products. Committed to high quality manufacturing, excellent customer service, and ongoing innovation, the company has over 100 patents and is guided by its tagline, "Useful. Innovation." Watco is located in Independence, Mo. http://www.watcomfg.com