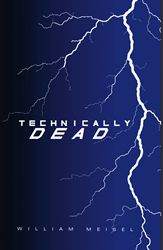 Wenatchee, WA (PRWEB) December 17, 2015
With his new novel, "Technically Dead," author William Meisel – a technology analyst and entrepreneur – dramatizes technology with a murder mystery.
The novel takes place in the near future. Archie Teal is a technical genius aided by his digital assistant Erasmus in solving crimes. He works with Detective Nikki Sharp. They find the murder case of a technology executive particularly challenging. Every suspect they can identify seems to have an alibi. Erasmus can be particularly helpful, in that he has a secret connection to NSA resources that Archie installed when he worked there.
"I based the premise of 'Technically Dead' on another book I'd published in 2013 titled 'The Software Society,' " Meisel says. "What's unusual about this is that the 2013 book is non-fiction. 'Technically Dead' utilizes a prediction I'd made in the earlier work."
Inequality and automation replacing jobs is explored in "The Software Society" and is a topic that's becoming more relevant in employment. Meisel dramatizes technology with a murder mystery by having the fallen victim be an entrepreneur who was running a company that creates a new category of jobs that's enabled by some of the advanced technologies.
"Meisel's technical expertise shines through in his depiction of Erasmus, a byproduct of artificial intelligence and robotics," writes reviewer Mihir Shah with http://www.theusreview.com. "There is a level of intelligence and deceit that each suspect is capable of that continuously places a shroud on the truth and makes Technically Dead an enjoyable whodunnit type mystery."
Tracy Fischer with Forward Reviews writes: "Meisel's absorbing work keeps pages turning and minds churning, and his ability to combine the technological with the personal makes him an author to watch."
Kirkus says, "Readers will delight in watching the computer nerd get the girl—and maybe catch a killer as well."
About William Meisel
William Meisel is an industry analyst covering the commercial uses of speech and language-understanding technology. Meisel's latest book, "Technically Dead," is a novel that dramatizes technology with a murder mystery and takes place in a near future, as predicted by his 2013 non-fiction book, "The Software Society: Cultural and Economic Impact." Meisel blogs on related topics at http://www.thesoftwaresociety.com. He writes a monthly paid-subscription industry newsletter, Speech Strategy News, and organizes the annual Mobile Voice Conference in his role as executive director of the Applied Voice Input Output Society. Meisel has a Bachelor of Science degree in engineering from Caltech and a Ph.D. in electrical engineering from the University of Southern California. He began his career as a professor of electrical engineering and computer science at USC and published the first technical book on "machine learning" ("Computer-Oriented Approaches to Pattern Recognition," Academic Press). He has 10 patents, ran the computer science division of a defense company, and founded and ran a company developing speech-recognition technology for a decade.