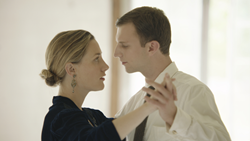 New York, NY (PRWEB) December 18, 2015
Gabrielle Lanser's short narrative film with dance, the birch grove, inspired by the novella of the same name by the renowned Polish author, Jaroslaw Iwaszkiewicz. http://www.wikipedia.org/wiki/Jaros%C5%82aw_Iwaszkiewicz, will be screened on February 12th at the 44th edition of the Dance on Camera Festival. The film will be shown at 6:00 pm at the Film Society of Lincoln Center, New York, NY: http://www.dancefilms.org/festival/dance-camera-2015/
Film Trailer and Gabrielle Lansner Website:
http://www.gabriellelansner.com/films/2014/08/The-Birch-Grove/
Film Synopsis
Caught between love and death, two brothers wrestle with their past in a dance towards reconciliation. This poetic film about the power of family ties is inspired by the novella of the same name by the renowned Polish author, Jaroslaw Iwaszkiewicz. Through dance, wordless scenes, and a sparse narration, the film moves fluidly between reality and the interior lives of the characters. Run Time 20 Minutes.
The film features an original classically infused score by composer Joel Pickard and cinematography by Brian O'Carroll, who is best known for his work on the film "Blue Caprice," which premiered at Sundance in 2013. Production Design by Dean Taucher, who is the production designer for Law & Order, SVU.
The film screens in the 44th edition of the Dance on Camera Festival, which features 20 feature films, 36 shorts, and four retrospective selections, as well as free panels. This year's edition presents audiences with the worlds of ballet, jazz, and contemporary dance; modern and postmodern legends and discoveries.
As an innovative filmmaker, Lansner is interested in creating a new narrative form that does not rely primarily on language. Her work evokes story and character through a physical language that is both emotional and psychological.
Gabrielle Lansner is an award winning filmmaker, whose work is influenced by her background in choreography and performing. The Birch Grove just won the Grand Jury Award and Best Experimental Film at the Underexposed Film Festival in Rock Hill, South Carolina.
THE STRONGER, 2012, premiered at the Cannes Short Film Corner and screened at over twenty festivals, including Newport Beach FF, Interfilm Berlin, Festival International du Film sur L'Art Montreal, and the Female Eye in Toronto. Garnering awards worldwide, the film received Best Artistic Director Award from the Lady Filmmakers Festival in LA, the Award of Distinction from the Open Stage Festival in Poland, and was nominated for Best Experimental Film at the Female Eye Festival and Best Cinematography at the Vision Fest Festival in NYC. The film is also regularly broadcast on Swedish Public Television.
Her first short film, DAD, 2010, won the Award of Merit for Experimental Film from the Accolade Competition. It screened at New Filmmakers Anthology Film Archives/NY, the Baryshnikov Arts Center NY, Newport Beach FF, and IN THE PALACE, among others.
For over 30 years, Lansner has explored artistic disciplines moving from pure dance works to dance/theater to film. She has always been interested in story and character, creating emotionally complex and layered works that delve into the heart and psyche.
Since 1997, she has been the Artistic Director of gabrielle lansner & company, a critically acclaimed dance/theater company based in New York City. The company's work has been produced at The Peter Jay Sharp Theater, HERE, River to River Festival, P.S 122, The Joyce Soho, to name a few, and has toured the US and Canada.
Documents, EPK and Photos also available at:
http://www.thebirchgrovefilm.com
http://www.GabrielleLansner.com
For more information or screening tickets contact fran@frankirmser.com