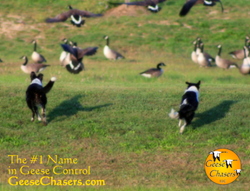 Mount Laurel, NJ (PRWEB) December 18, 2015
Geese Chasers™ LLC, the professional geese clearing service that humanely eliminates bothersome Canada geese on open spaces with the fastest, most effective, affordable, and respectful method possible – highly trained border collies – has announced it's now offering complimentary assessments for property owners and managers in New Jersey's Camden, Gloucester and Burlington counties.
FOUL PLAY
Community parks, commercial campuses, retail venues, residential spaces, golf courses and municipal fields in New Jersey have long suffered from non-migratory Canada geese that have taken up residence. As a result, the birds' invasive noise, obstructions and noxious droppings have proven to be a near-impossible-to-remove nuisance to those who manage properties. Past methods of geese removal are now recognized by many as unreliable: noise makers; decoys such as cut outs of humans and predatory animals; and goose repellant.
MOST EFFECTIVE GEESE REMOVAL – NOW WITH FREE SURVEYS FOR ELIMINATION
Only the use of highly trained border collies offers the most reliable method of removing Canada geese. While every property is unique, the naturally bred instincts of border collies are universal. Without harming the geese, border collies stalk and use a wolf-like stare to convince geese they are predators.
Property managers can now receive a no-cost assessment from Geese Chasers™ to determine the best customized regimen to address their scourge of Canada geese infestation.
"I've seen the look of relief on property managers once they realize their goose problem is over," said Karl Scott, General Manager for Geese Chasers, LLC. "They also love the fact that our solution is all natural, totally effective – plus, they love to watch our trained dogs doing their thing!"
For more information or to schedule a no-cost assessment, property managers or owners in New Jersey's Camden, Gloucester, and Burlington counties may call 1-866-98-GEESE or visit the company's website: http://www.geesechasers.com and complete the online form.
ABOUT GEESE CHASERS™, LLC.
Established in 1999, Geese Chasers™ is North America's #1 name in Canada goose control with multiple locations in the United States. The company prides itself on its ability to maintain zero goose populations for its clients for over 15 years. Only the use of Geese Chasers' highly trained Border Collies delivers a natural and long-lasting solution. Learn more at http://www.geesechasers.com.