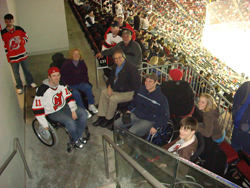 As a long-time member of the Devils' Army, I am thrilled to work with the team on an event that will help us raise funds for our clients at Push to Walk
Riverdale, NJ (PRWEB) December 17, 2015
On Tuesday, January 19th at 7:00 pm at the Prudential Center in Newark, NJ, the New Jersey Devils will take on the Calgary Flames. Push to Walk is selling discounted tickets in an effort to raise funds for "Push to Walk's Night with The New Jersey Devils," which will directly benefit our those with paralysis. As part of Push to Walk's group ticket sales, ticket holders will receive a group welcome on the big screen and a Devils gift.
Ticket price is $40.00 and seating is in the 100 Level. Tickets can be purchased at Push to Walk, or arrangements can be made over the phone and through e-mail. The last day to order tickets is Tuesday, January 5th, 2016.
"As a long-time member of the Devils' Army, I am thrilled to work with the team on an event that will help us raise funds for our clients at Push to Walk," said Cynthia Templeton, President & Founder of Push to Walk. "We are looking forward to a night out and hope we can raise significant funds while having some fun!"
Donation opportunities are available on the Push to Walk website: http://www.pushtowalknj.org. For more information, please contact Stephanie Lajam at (862) 200-5848 or slajam(at)pushtowalknj.org.
#####
About Push to Walk
Founded in 2007, Push to Walk is an organization that provides individualized workouts and resources to people with spinal cord injuries and other forms of paralysis to optimize current quality of life and to prepare for future medical advancements. It is the only program of its kind in the New York- New Jersey area. Push to Walk's rigorous one-on-one workout approach challenges clients to reach their personal goals and achieve maximum independence, leading to greater success and fulfillment in their personal and professional lives. Push to Walk is only able to cover about 65% of its operating costs through client fees, and relies on grants and fundraising events to help make up the difference. A 501(C)3 non-profit, Push to Walk is located in Riverdale, New Jersey. Visit http://www.pushtowalknj.org to learn more.