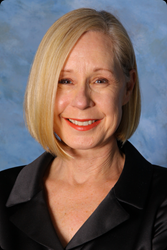 SURPRISE, ARIZ. (PRWEB) December 17, 2015
Sharon B. Thornton has been named the new executive vice president and chief philanthropy officer for Sun Health Foundation.
Thornton most recently served as the chief development officer and executive director for three PeaceHealth Oregon Foundations. While there, she restructured the foundations, doubled gift revenue in her first 18 months and helped create several initiatives that drove major gift support. PeaceHealth is a family of hospitals, clinics, doctors and laboratories based in the Pacific Northwest.
From 2002 to 2013, Thornton served as the vice president for gift planning and vice president for legal affairs and governance at Hoag Hospital Foundation in Newport Beach, California. She directed a planned-giving program that generated more than $130 million in gifts and added more than 275 estate donors.
Thornton served in similar capacities at three California-based institutions: the University of California, Irvine; Saddleback Memorial Foundation in Laguna Hills; and United Western Medical in Santa Ana.
From 1979 to 1992, she worked in private practice, providing business and tax planning services to small businesses in Los Angeles County.
Thornton has a bachelor's degree in political science from the University of California, Los Angeles; a law degree from Loyola Law School in Los Angeles; and a masters of tax law from Georgetown University Law Center in Washington, D.C.
About Sun Health
A long-standing champion of healthy living, research and superior health care, Sun Health is a community-based organization providing pathways to population health through philanthropy, senior living communities and community wellness programs. Learn more at http://www.SunHealth.org.
# # #