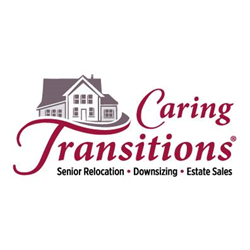 Upland, CA (PRWEB) December 17, 2015
Sisters Sandy Leal, Cathy Ramirez and Susie Rowan are proud to announce the launch of their new business, Caring Transitions Inland Empire Foothills.
The three identified the need to help seniors who are overwhelmed with the process of downsizing, relocating and liquidating their household. All three moved away from their Midwest roots but were fortunate that, when it was time to deal with their parents' estate, they had siblings and extended family back home to help. They opened Caring Transitions because they recognize that nearly 50 percent of adult children don't live in the same state as their parents
Caring Transitions is the nation's largest household relocation and liquidation custom solutions specialist. Relocation services offered include decluttering, downsizing, floor planning, packing, and same-day resettling and home liquidation can be achieved in as little as 21 days through a well-staged estate sale or on-line auction. Although clients can be anyone that needs help with a transition, most clients are seniors that are downsizing from their home to a senior community. Caring Transitions Inland Empire Foothills serves Rancho Cucamonga, Upland, Claremont, La Verne, San Dimas, Glendora and the surrounding areas.
"The Sandwich Generation is busier than ever with dependent children on one side and aging parents on the other. Downsizing, relocating and preparing a house for market is an overwhelming process," says Leal. "Frequently, families must travel long distances or take time off of work to sort and clean a house and prepare it for sale. It's costly and stressful. We remove that stress by managing the project from start to finish." she adds.
Caring Transitions' services are customized to meet the objective of the client and determined during a free in-home estimate. The project can be as simple as decluttering and staging a home to prepare it for sale or as complex as managing the entire downsizing and relocation project. Caring Transitions is able to promptly liquidate the house or senior living residence after the passing of a loved one. All services are performed in a cost efficient, timely manner.
Rowan explains, "The word caring is in our name because that is what we do best. We provide a physical service, but it's the emotional support that our clients need most. We understand that a late life transitions can be overwhelming, but that's where Caring Transitions steps in." Rowan adds, "The instilled respect and admiration we have for the generation before us helps us provide a joyful transitional experience for our valued clients and their families. We are committed to serving the senior population with the dignity and respect they deserve."
All three sisters bring individual strengths and a valuable combination of professional and personal experience with them to be well prepared for the venture ahead. They also bring their family core values of honesty, compassion, respect, and efficiency that will help them serve the Inland Empire Foothill communities very well.
For more information about Caring Transitions, call (909)259-0280; email SLeal(at)CaringTransitions.com, CRamirez(at)CaringTransitions.com or SRowan(at)CaringTransitions.com; or visit http://www.caringtransitionsiefoothills.com.
About Caring Transitions
Caring Transitions, founded in 2006, is the first national franchising concept specializing in senior relocation and transition services. With more than 150 locations throughout the United States all owned and operated by Certified Relocation and Transition Specialists, Caring Transitions provides clients with supportive moves, auctions, rightsizing and transitions. This includes expert advice plus a well-executed transition plan beginning with the initial sorting of personal belongings through packing, shipping and selling of items to the final clearing and cleaning of the property. For more information, visit http://www.caringtransitions.com or visit us on Facebook.