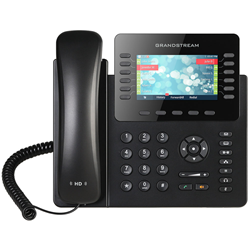 The new Grandstream GXP2170 IP Phone is an executive desktop phone built for the most demanding power user.
Milwaukee, WI (PRWEB) December 16, 2015
Power users have unique demands. Handling volume at speed is essential. Products that save minutes for most people save hours for power users.
The new Grandstream GXP2170 IP Phone is an executive desktop phone built for the most demanding power user.
IP Phone Warehouse is proud to announce that the Grandstream GXP2170 is now available. The latest addition to IP Phone Warehouse's unbeatable portfolio of VoIP phones, GXP2170 is a new design from Grandstream, a stylish endpoint that supports 12 line appearances and 6 SIP accounts and has a beautiful, all-glass 4.3" LCD.
The phone provides 48 on-screen keys that can be programmed to specify speed dial contacts or BLF (busy lamp field) extensions. For busy users, having a generous selection of easily customizable keys is a must. Grandstream includes a downloadable phonebook of up to 2,000 items and a call log of up to 500 entries.
The 12 line appearance buttons are dual-colored, green and red, an elegant interface that gives necessary information at a glance. There are five programmable softkeys that can be set to the most used functions, a valuable time-saving feature.
The endpoint connects to the network using two auto-sensing Gigabit Ethernet ports. The phone is PoE compliant, so it can be powered by the cable that connects it to the network. Bluetooth is supported for wireless connectivity and the syncing of information such as calendars and contact books with mobile devices. Plantronics headsets that are EHS compatible are also supported.
Grandstream has integrated HD audio into the phone, using wideband technology to produce clear, natural speaking in conversations. The speakerphone function is full-duplex for occasions when hands-free communication is desired, and the phone supports 5-way local conferencing.
Line appearances or speed dial contacts can be added with the Grandstream GXP2200EXT Expansion Module. Each module offers 20 dual-color programmable keys and two pages of information, meaning 40 additional line appearances or speed dial contacts per unit. Up to four modules can be added, greatly expanding the functionality of the main unit.
The GXP2170 is now available at IP Phone Warehouse. IP Phone Warehouse backs all products with expert support both before and after sales, and stocks the full range of Grandstream VoIP phones, phone systems, and accessories.
Contact IP Phone Warehouse by phone at (888) 201-9056 or by email at service (at) ipphone-warehouse (dot) com to learn more about the Grandstream GXP2170 IP Phone.
About IP Phone Warehouse:
IP Phone Warehouse is the most trusted online reseller of VoIP technology. We are authorized online resellers of IP phones, IP-PBXs, video conferencing equipment, network security cameras, and much more. With expert pre- and post-sales customer support, same day shipping, and unbeatable prices, IP Phone Warehouse is the website of choice for businesses looking to acquire the many benefits of enterprise VoIP.