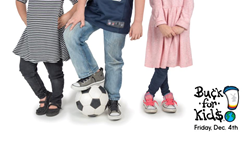 Dutch Bros strives to inspire kids to follow their dreams.
Grants Pass, Ore. (PRWEB) December 17, 2015
Friday, Dec. 4, marked the Dutch Bros annual Buck for Kids day. On this day, over 250 Dutch Bros locations in seven states raised $250,008 for local children's organizations.
"Investing in our kids is vital. We are inspired by all the organizations that put such care and planning into providing opportunities for kids," said Travis Boersma Dutch Bros Co-founder. "Having the opportunity to support those local organizations as they provide programs and activities that compel our youth to live their dreams is truly heart warming."
Buck for Kids is an annual event where each Dutch Bros franchisee partners with their local community to raise funds for organizations that benefits local youth.
"We are very grateful for the gift from Dutch Bros, the money is directed to our program that serves children with special needs throughout the year," said Kip Murray, Executive Director, Arizona Recreation Center for the Handicapped in Phoenix, AZ. "Each year we have a funding gap at the end of the year and this served as our own holiday miracle."
To raise funds, all 254 Dutch Bros locations donated proceeds from the day's sales. Funds will go to the organization as they continue to support local youth and make a positive impact on their lives.
To see the total donation amount to each organization that was supported for Buck for Kids, visit http://www.dutchbros.com/buckforkidsresults