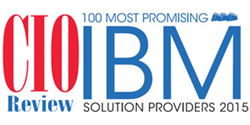 Systemware is honored to be recognized by CIOReview's panel of experts and thought leaders as a leading IBM solution provider
Addison, Texas (PRWEB) December 17, 2015
Systemware, a leading provider of enterprise content management (ECM) solutions, has been named one of 100 Most Promising IBM Solution Providers by CIOReview. This recognition acknowledges Systemware's next-generation ECM capabilities for seamless and secure access to information across the enterprise.
The annual list of 100 Most Promising Solution Providers is selected by a panel of experts and members of CIOReview's editorial board to recognize and promote technology entrepreneurship. Evaluated alongside hundreds of IBM partners, Systemware has been recognized for technology advancements that simplify enterprise operations. Systemware Content Cloud, an intelligent content network launched in early 2015, sets a new standard in ECM by providing unmatched interoperability between enterprise systems, an individualized experience for unique users, and a flexible hybrid cloud infrastructure that delivers location-agnostic information management.
"Systemware has been on our radar for some time for stirring a revolution in the IBM landscape, and we are happy to showcase them this year due to their continuing excellence in delivering top-notch technology-driven solutions," said Jeevan George, Managing Editor, CIOReview. "Systemware Content Cloud continued to break new ground within the past year, benefiting its customers around the globe, and we're excited to have them featured on our top companies list."
"Systemware is honored to be recognized by CIOReview's panel of experts and thought leaders as a leading IBM solution provider," said Frankie Basso, President and COO at Systemware. "Our partnership with IBM has played a significant role in the development of our industry-leading technology. Leveraging Content Cloud across various applications like WebSphere and z/OS, among others, brings Systemware's unique content management capabilities to customers in a proven environment."
The 100 Most Promising IBM Solution Providers of 2015 was published in the CIOReview IBM Special on November 25, 2015. To read more about Systemware's recognition, click here.
About Systemware
Systemware has been a leader in enterprise content management for more than 30 years, with its ECM solutions deployed in many of the largest organizations in the world helping them to effectively and efficiently capture, analyze, curate and secure critical business information. Systemware high-volume content management solutions are utilized in many industries — including financial services, insurance, healthcare and retail — to capitalize on information assets, improve customer service, reduce operating costs, support compliance objectives and facilitate better-informed business decisions. Systemware offers a variety of deployment options, including on premises, cloud and hybrid. For more information, visit http://www.systemware.com or call 1-800-535-8681.
About CIOReview
CIOReview constantly endeavors to identify "The Best" in a variety of areas important to tech business. Through nominations and consultations with industry leaders, our editors choose the best in different domains. IBM Solution Providers is an annual listing of 100 Most Promising IBM Solution Providers in the U.S.