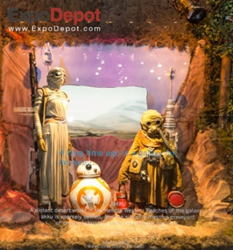 New York, NY (PRWEB) December 17, 2015
On October 26th ExpoDepot Inc. CEO Gregory S. Abbate, and the ExpoDepot.com Team were commissioned to create five world class environments for the window displays at Bloomingdales on 3rd Avenue, New York City based on the yet to be released Star Wars: The Force Awakens produced by Disney Consumer Products and Lucas Films.
The project is a two phase project, the first of which was revealed on November 23rd with Star Wars: The Force Awakens characters in five different environments from the movie.
Part two of the 'Star Wars' display was the partnering of Disney and Bloomingdale's for a "Star Wars: The Force Awakens"-themed fashion-meet-fundraiser initiative called "Force 4 Fashion."
Taking inspiration from the film's costume designer, Michael Kaplan, fashion favorites Cynthia Rowley, Diane von Furstenberg, Giles Deacon, Halston, Opening Ceremony, Ovadia & Sons, Parker, Rag & Bone, Timo Weiland, and Todd Snyder each created an outfit to be auctioned for charity that pays homage to characters from the new movie.
These fashions were revealed at the evening "Force 4 Fashion" charity event in New York City on Dec. 2 and put on display at Bloomingdale's New York City flagship store the next day. The "One of a Kind" fashions remain on display at Bloomingdales until the movie premier on December 18th.
Thanks to Bloomingdales, Disney Consumer Products & Star Wars: The Force Awakens, ExpoDepot.com created these wonderful window displays for the Bloomingdales Flagship store in New York City on 3rd Avenue between 59th and 60th Streets for all of the public to enjoy through January 4th 2016.
ExpoDepot.com is a New York based company selected by Bloomingdales & Disney Consumer Products to create these world class displays and promote the movie. CEO Gregory S. Abbate stated: "Although we have worked on dozens of movie promotional displays and premieres. We are thrilled to be part of this project!"
The characters of Star Wars: The Force Awakens meet the fashion world — and all for a good cause. Follow ExpoDepot.com on Facebook, Instagram, and Twitter.
https://www.facebook.com/expodepotinc
https://www.instagram.com/expodepotinc
https://twitter.com/ExpoDepotInc
Want to learn more about this project? Visit our Star Wars Display Gallery
ExpoDepot.com is your single source solution for Tradeshow Displays,
Tension Fabric Products, Overhead Signage, Banners, Graphics, Accessories, Table Top, Portable & Modular System Exhibits. We Design and Produce Custom Exhibits & Displays for Tradeshows, Retail Entertainment, Visual Merchandising, Special Events, Museums & Showrooms. At ExpoDepot.com we produce specialized products for Multi-Media Events, Lighting, Kiosks & other Related Interactive Media.