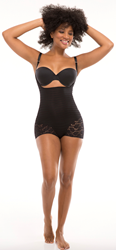 New York City, NY (PRWEB) December 22, 2015
TruFigure is thrilled to announce the launch of their products at Ricky's NYC, a fixture in the urban beauty scene.
The TruFigure shapewear line features a variety of products that can both correct posture and slim the appearance of the midsection. TruFigure is known for offering high-quality items that blend form with function.
Flagship items in the TruFigure line include:

High Compression "Wear Your Own Bra" Bodysuit: Featuring delicate, sexy lace features, this braless top has removable straps and abdominal control to slim the waist and lift the hips.
High Waist Panty with Mesh Lace: Offering moderate control of the abdominals and waist, this panty lifts and molds the hips while increasing circulation.
The Classic Latex Waist Cincher: The shapewear that's making waves on social media, this high compression unit molds to the user's body over time. Ideal for weight loss and waist training, this unit can provide up to 4 inches of waist reduction in the first month of wear. The Classic Cincher can speed post-partum recovery, improve back posture, and relieve many kinds of back pain.
Sports Latex Waist Cincher: Offering the same benefits as the Classic Waist Cincher, this sportier version comes in fun colors and offers three rows of hook and eye closures.
The TruFigure shapewear line is available in stores and online at http://www.rickysnyc.com. To learn more about this high-end shapewear line, please visit http://www.trufigure.com.
About TruFigure
The secret to the famed Colombian waistline is out, and it's available now with products from TruFigure. Featuring high-quality waist trainers made in Colombia, TruFigure waist cinchers feature long-lasting material, optimal fit, and exceptional results. With benefits including accelerated weight loss, immediate flattening of the tummy, and instant reduction of the waistline from 1 to 4 inches, latex-based waist cinchers made Amazon.com's top 10 list of bestsellers in 2015. TruFigure represents incredible value by pairing excellent customer service with competitive pricing and transparency of in stock inventory on high demand items. With honest shipping estimates and pre-negotiated shipping rates with various carriers, TruFigure makes the ordering process seamless and worry free. TruFigure is available at select retailers across the United States including Ricky's NYC.