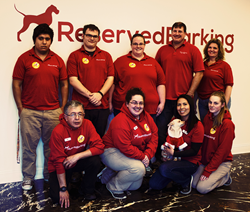 The dogs are just too precious not to invest in this kind of training
Alexandria, VA (PRWEB) December 18, 2015
When pet parents drop their beloved animals off at Reserved Barking of Alexandria, VA, they can now do so knowing the entire staff is ready for just about anything. That's because the 15,000 square foot doggy daycare and boarding facility invested in an accredited CPR and pet first aid training program for every attendant and trainer who works on site.
The training covers just about any and every issue or injury which might come up while the dogs are in daycare. This includes heat exhaustion, frostbite, choking, bee stings, snake bites, dog bites, and seizure care. Staff members are trained in proper muzzling and bandaging procedures to keep both the dogs and humans comfortable and safe while they work.
"At Reserved Barking we do everything in our power to keep the dogs safe. It's one reason why we have one of the most comprehensive dog evaluation processes in the industry," notes owner Bilal Malik. "However, sometimes injuries do happen. When they do, we want to be ready. We've spared no expense in making sure we are."
Lead dog trainer, Brian Umbach, leads the training. Umbach is a former US Airforce canine handler who worked with patrol dogs, narcotic dogs, and explosive dogs. "Working dogs get hurt a lot," Umbach noted. "So the military has been using these special pet first aid techniques for a long time. Military dog handlers have to know how to deliver fast, lifesaving first response medical care in hazardous conditions so these dogs can survive long enough to get extensive medical care."
The American Animal Hospital Association (AAHA) estimates 25% more injured dogs would survive if they were given first aid or CPR prior to receiving formal veterinary care.
"When a dog's heart has stopped or he's not breathing, seconds count," Umbach confirms.
Reserved Barking has plans to offer ongoing training at their facility, certifying new employees as a matter of procedure.
"The dogs are just too precious not to invest in this kind of training," Malik explains.
For more information, contact Brian Umbach, Reserved Barking head trainer, at 703-417-9755 or visit the Reserved Barking website at http://www.ReservedBarking.com.