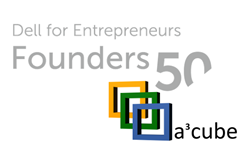 San Jose, California (PRWEB) December 17, 2015
A3Cube, a leading provider of hyper-converged solutions, is proud to announce it is part of Dell's Founders 50 Class 2016, an exclusive list of global startups recognized by Dell as having high growth potential and that are disrupting their respective industries and poised to be household names in the coming years.
Dell's Founders 50 is a significant milestone for A3Cube. It is a two-year program designed to accelerate growth by providing support in various areas, including technology, sales enablement, networking and capital.
"We are honored and glad to be part of Dell's 50 Founders. I'm particularly excited that Dell recognized the value and the potential of our company," said Antonella Rubicco, CEO of A3Cube. "This major achievement confirms that clear vision, great passion, top engineers and the best partner are the right formula for success. I want to thank Dell for this unique opportunity and A3Cube's team for their incredible work, which is just beginning."
About A3CUBE
A3Cube has solved the latency problem associated with software only solutions to scale out, converged computing, bringing to market the fastest solutions for big data, analytics and virtualization, while reducing power consumption and achieving maximum hardware performance. A3Cube transforms time, data and infrastructure in value.
For more information, visit our website:
http://www.a3cube-inc.com
Follow us
https://twitter.com/a3cubeInc
https://www.facebook.com/A3Cube-Inc-388909857970971/
About Dell
Dell Inc. listens to customers and delivers innovative technology and services that give them the power to do more. As the visionary outcome of a true entrepreneur, Dell is committed to helping power the success of entrepreneurs by developing technology solutions that enable their businesses to increase productivity and grow.
For more information on the resources Dell provides, visit Dell for Entrepreneurs at: http://www.dell.com/entrepreneur, and to learn about Dell's advocacy on behalf of entrepreneurs, visit http://www.entrepreneursunite.com or join the conversation using #EntrepreneursUNite.