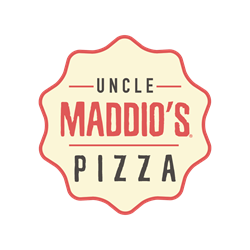 "The create-your-own pizza concept is taking off in Denver and we expect Uncle Maddio's to be the top choice for pizza lovers in the area," said Founder and CEO Matt Andrew.
Denver, CO (PRWEB) December 18, 2015
Less than a year after opening its first Denver-area restaurant, Uncle Maddio's Pizza, the create-your-own fast-casual pizza franchise, is expanding in Colorado and will open in the Northwest Denver suburb of Westminster. The top pizza franchise will open on Friday, Dec.18, at 1181 W. 120th Ave Westminster, CO 80234, 720-872-6453. To celebrate the opening, Uncle Maddio's will host a grand opening party on Saturday, Dec. 19 and will serve free pizza to guests in line from 11 a.m. to 2 p.m.
The Westminster franchisee James Smethie, opened his first of three Denver area restaurants in Aurora early this year to wide acclaim local residents. In addition to Smethie, former McDonald's executive Craig Tappin will be opening three Uncle Maddio's in the Southeast Denver beginning in 2016.
Uncle Maddio's is a next generation pizza restaurant that lets guests build their own pizza exactly how they want it and cooked in fast baked ovens and served to their tables in about six minutes. Guests choose from one of three crusts, including a delicious gluten-free option, and 48 toppings, including six sauces, 27 vegetables and 15 meats. Everything is fresh, from the pizza dough and sauce that's made in-store each day to the wide variety of veggies. For guests looking to expand their pizza horizons, Uncle Maddio's also offers signature pizzas ranging from the meaty Big Max to the spicy Jamaican Jerk. Create-your-own salads and Foldwich ™ sandwiches round out the Italian-inspired menu. The restaurant also offers a selection of craft beers and wine.
"Our first location in Aurora has been such a success that we knew we had to bring Uncle Maddio's to more locations across Denver," said James Smethie, Uncle Maddio's Westminster franchisee. "The residents of Denver love pizza and Uncle Maddio's is quickly becoming one of their favorite pizza places."
Denver resident and Colorado State University graduate Smethie opened his first Uncle Maddio's location in Aurora last January. The opening in Westminster is the second location for the franchisee.
"James has done an amazing job in Aurora and is sure to make his second restaurant in Westminster as big of a success," said Matt Andrew, CEO. "The create-your-own pizza concept is taking off in Denver and we expect Uncle Maddio's to be the top choice for pizza lovers in the area."
Since launching its aggressive growth plan in 2008, Uncle Maddio's has signed franchise agreements with 65 different entities in 18 states. Many of Uncle Maddio's franchisees have previous multi-unit experience with Jimmy John's, Firehouse Subs, Dairy Queen, McDonald's, Burger King, Krystal, Papa John's, Domino's and Golden Corral. Uncle Maddio's is on track to have 250 restaurants open in five years with 1,000 units in development.
For information on Uncle Maddio's Pizza, visit http://www.unclemaddios.com. Interested franchisees can visit unclemaddiosfranchise.com or contact Roger Wagerman at franchising(at)unclemaddios(dot)com.
About Uncle Maddio's Pizza
With more than 1,350 Pizza Makers making more than 5,000,000 pizzas a year, Uncle Maddio's Pizza is category leader of the create-your-own, fast casual pizza restaurants. Operating 44 locations in 14 states, Uncle Maddio's has more than 250 units in development and is projected to double in size in 2015. Uncle Maddio's pizzas are customizable, made-to-order, and served up fast for about $8. With four pizza sizes, three types of crusts (including gluten free), six sauces and 48 fresh toppings, Uncle Maddio's has the freshest and largest menu in the category. The restaurant's unique fast bake ovens offer the most throughput in the industry and can produce 200 pizzas per hour. Uncle Maddio's also serves Foldwiches™ and salads. Uncle Maddio's 'Served with Love' philosophy and restaurant is for everyone - children and families, college students, the young and the young at heart - and includes extensive community involvement. Based in Atlanta, the Uncle Maddio's management team has 50 years combined experienced in the fast casual category. http://www.unclemaddios.com
Click here for photos: Uncle Maddio's Photos
###