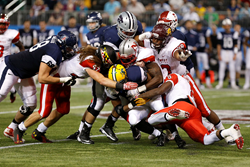 St. Petersburg, Fla. (PRWEB) December 18, 2015
The East-West Shrine Game has selected June Jones and Charlie Weis as head coaches for the 2016 game, and the two men offer quite a difference in offensive coaching styles. For the West team, you have Jones, the proponent of a wide-open attack that brought great success to the University of Hawaii. For the East Team, you'll see Coach Weis whose pro-style offense won three Super Bowls for the New England Patriots.
Weis was a protégé of Coach Bill Parcells, first joining the NFL legend's New York Giant's staff in 1990. That team would go on to win Super Bowl XXV. Weis also served under Parcells while with the New England (1993 – 97) and the New York Jets (1997 – 99). The Jets job was Weis' first as an offensive coordinator. There, he began perfecting a balanced offense that featured a powerful running game and controlled-but-varied passing attack. In 2000, Weis took his offensive genius back to the New England Patriots, where he saw three Super Bowl victories in four years.
By contrast, Jones first learned about the 'run-and-shoot' offense while playing quarterback at Portland State in 1975 – 76. Years later, as the head coach of the Hawaii Rainbows (now Warriors), he deployed the pass-happy offense to great effect. In 1998, the Rainbows had gone 0 – 12, but in 1999 with Jones at the helm (and with running plays few and far between), the team won nine times. Jones was named National Coach of the Year by CNN/Sports Illustrated, American Football/Shutt Sports and Sporting News. Hawaii's best season under Jones came in 2007 with a 12 -1 season that earned the team a Sugar Bowl appearance.
Both Jones and Weis have enjoyed long and fruitful careers. In addition to the coaching stints already mentioned, Weis became the head coach at his alma mater, Notre Dame, in 2005, posting a record of 9 – 3. He was named Eddie Robinson Coach of the Year and the team was ranked 9th in the nation by the Associated Press. Notre Dame would then go 10 – 3 in 2006, and finish that year with a No. 17 AP ranking. In five years with Notre Dame, Weis's teams logged a win-loss record of 35 and 27. Other coaching assignments for Weis include offensive coordinator for the Kansas City Chiefs (2010), where he helped a 4 – 12 team improve to 10 – 6. Weis then left Kansas City to become offensive coordinator for the Florida Gators (2011). Most recently, he was head coach for the Kansas Jayhawks (2012 – 14).
Jones' quarterbacking skills had been impressive enough to earn the one-time quarterback a roster spot with the Atlanta Falcons and the CFL's Toronto Argonauts but his real success came as a coach. Early coaching experience includes a stint as an assistant at Hawaii in 1983, and USFL's Houston Gamblers (1984). He was the offensive coordinator for the Denver Gold (USFL) in 1985 and of the Ottawa Rough Riders (CFL) in 1986. Jones made his NFL coaching debut as the quarterback coach with the Houston Oilers (1987 – 88) followed by coaching quarterbacks and wide receivers for the Detroit Lions (1989 – 90). In 1991, he was hired as the offensive coordinator for the Atlanta Falcons and was promoted to head coach in 1995, where he coached through 1996. In 1998, Jones joined the San Diego Chargers as quarterback coach before filling in for part of the year as the interim head coach. It was from San Diego that Jones took over at Hawaii. He finished his coaching career as the head coach for the SMU Mustangs (2008 – 2014).
The East-West Shrine Game has been played 90 times before this year's contest, making it the oldest of all of the all-star games. Kick-off is set for 4:00 p.m. (EST) on January 23, 2016, at Tropicana Field in St. Petersburg, Fla. The game will be broadcast live on NFL Network and broadcast worldwide on radio via Yahoo Sports Radio, SiriusXM, and Tunein. To learn more about the East-West Shrine Game or to order tickets, please visit http://www.shrinegame.com.
About Shriners Hospitals for Children
Shriners Hospitals for Children is changing lives every day through innovative pediatric specialty care, world-class research and outstanding medical education. The 22 facilities in the United States, Canada and Mexico provide advanced care for children with orthopaedic conditions, burns, spinal cord injuries, and cleft lip and palate.
Shriners Hospitals for Children is a 501(c)(3) nonprofit organization and relies on the generosity of donors. All donations are tax deductible to the fullest extent permitted by law. To learn more about Shriners Hospitals for Children, please visit http://www.shrinershospitalsforchildren.org.