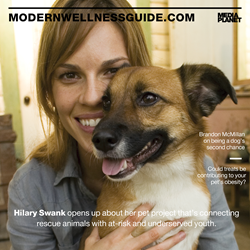 there is a vital need to help those who can't speak for themselves
New York, NY (PRWEB) December 17, 2015
With issues ranging from health of your pet, abuse and even homelessness, there is a vital need to help those who can't speak for themselves. In working with top associations, thought leaders, celebrities and companies within the industry, this campaign educates and inspires readers to take action to ensure all animals in the United States receive the vital care they need and deserve.
The print component of "Pet Wellness" is distributed within this Thursday's edition of USA Today, in Los Angeles, Nashville, San Francisco, New York and Denver with a circulation of approximately 250,000 copies and an estimated readership of 750,000 copies. The digital component is distributed nationally, through a vast social media strategy, and across a network of top news sites and partner outlets.
Treats have become a large part of how owners show our pets affection. Although with pet obesity on the rise, it is important to know what is in their food. Charlee Bear® Products is helping to create treats that are not only healthy and natural but also not full of calories.
About Charlee Bear.
Charlee Bear Products is a leader in the category of all natural, low calorie dog treats. The company was founded over 20 years ago with the goal of making "dog treats with a healthy purpose," in the USA, with wholesome, simple ingredients. Charlee Bear worked with dog trainers for feedback while developing their treats. Over the years the treats have consistently received the endorsements of many professional dog trainers nationwide. Charlee Bear has always valued and understood the long history of the bond between humans and canines. The Original Charlee Bear® Dog Treats and the latest Grain Free BEAR CRUNCH were designed to support and nurture that important human/canine relationship in a healthy way.
About Mediaplanet
Mediaplanet is the leading independent publisher of content-marketing campaigns covering a variety of topics and industries. We turn consumer interest into action by providing readers with motivational editorial, pairing it with relevant advertisers and distributing it within top newspapers and online platforms around the world.
Press Contact:
Ava Olsen, Brand Manger
ava_olsen(at)wixon(dot)com
608-238-5252