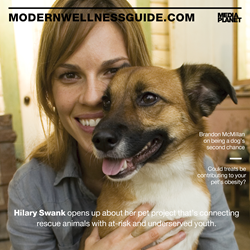 Approximately 78 percent of Americans are hitting the road and skies each year with their furry friends.
New York, NY (PRWEB) December 17, 2015
"Pet Wellness" doubles as both an awareness campaign and preventative guide for owners looking to provide their pet with top-shelf nutrition, safety and overall quality of life. And with approximately 78 percent of Americans are hitting the road and skies each year with their furry friends, too many pet owners are unaware of the options available to fit their furry friend's personality.
The print component of "Pet Wellness" is distributed within today's edition of USA Today in Los Angeles, Nashville, San Francisco, New York and Denver, with a circulation of approximately 250,000 copies and an estimated readership of 750,000 copies. The digital component is distributed through a vast social media strategy and across a group of top news sites and partner outlets.
This edition of "Pet Wellness" was made possible with the support of the Residence Inn Miami Airport. With Pet Friendly accommodations, Residence Inn Miami Airport allows pet owners to travel with their furry loved ones! The hotel is part of the Marriott Miami Airport Campus, a dynamic collection of three unique hotels (Residence Inn Miami Airport, Courtyard Miami Airport and Marriott Miami Airport) designed to deliver an entirely new brand of service for vacation and business travel. Designed to reflect the evolving needs of today's traveler, the campus offers plenty of space to gather, meet, relax, dine and accommodate their pet.
About Residence Inn
Residence Inn Miami Airport at 1201 NW 42nd Ave. in Miami, FL is near Sun Life Stadium and less than 10 minutes from Miami International Airport (MIA). The all-hotel boasts 6 floors with 163 suites, 1 meeting room with 650 square feet, a fitness center, outdoor pool and whirlpool. An airport shuttle service, daily breakfast and high-speed Internet access are all complimentary. Three nights a week our hotel offers "The Mix" featuring a unique opportunity to socialize in our lobby or outdoor space. For information, visit http://www.marriott.com/MIAAS or call 1-305-642-8570.
Guests who stay with us will discover a lush, tropical setting of absolute convenience—with deluxe accommodations, inspired amenities, fabulous cuisine and plenty of special offers—only minutes from Miami International Airport. A Pet Acceptance Agreement must be signed at check-in and a $100 non-refundable sanitation fee is required. Restrictions and damage fees may apply*.
About Mediaplanet
Mediaplanet is the leading independent publisher of content-marketing campaigns covering a variety of topics and industries. We turn consumer interest into action by providing readers with motivational editorial, pairing it with relevant advertisers and distributing it within top newspapers and online platforms around the world.
*The hotel reserves the right to require immediate removal of any pet that displays dangerous or unacceptable behavior. No more than two pets may occupy a guestroom. Pets are limited to Pet-Friendly areas only and must be leashed, caged or firmly held when they are in all common areas of the hotel, including the Pet Walk. Guest's hotel account will be charged for the repair or replacement cost of any damage caused by pet. Pet acceptance agreement must be signed at check-in. Contact hotel directly for more information.