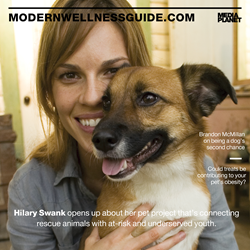 Of all pet owners in the US, 9 in 10 say they consider their pet to be a member of their family
New York, NY (PRWEB) December 17, 2015
The campaign's intention is twofold: educating and then motivating pet owners and potential pet parents to take the necessary action to ensure all animals in the United States receive the vital care they deserve.
The print component of "Pet Wellness" is distributed within this Thursday's edition of USA Today, in Los Angeles, Nashville, San Francisco, New York and Denver with a circulation of approximately 250,000 copies and an estimated readership of 750,000 copies. The digital component is distributed nationally, through a vast social media strategy, and across a network of top news sites and partner outlets.
Of all pet owners in the US, 9 in 10 say they consider their pet to be a member of their family and 79 percent claim the quality of their pets' food is as important as their own. With quality and transparency only growing in importance, Simplicity Pet Care has introduced Sen5es, a new type of dental treat that is not only gluten- and grain-free, but is also made with 100 percent American-sourced ingredients. The treats contain an exclusive SuperFoods Blend with vegetables known to support canine health, such as spinach, carrots, sweet potatoes, blueberries and beets. As part of Simplicity's efforts to provide total transparency, each bag of Sen5es Premium Dental Chews is stamped with a unique electronic signature that allows consumers to see and learn about the individual who prepared their pet's bag of treats.
About Simplicity Pet Care
Simplicity Pet Care is an All-American pet nutrition company dedicated to providing animals across the country with the highest quality, most nutritious products on the market. All Simplicity treats are Grain Free, and made in America with 100 percent American sourced ingredients.
About Mediaplanet
Mediaplanet is the leading independent publisher of content-marketing campaigns covering a variety of topics and industries. We turn consumer interest into action by providing readers with motivational editorial, pairing it with relevant advertisers and distributing it within top newspapers and online platforms around the world.
Press Contact:
Jory Beer
Jory.Beer(at)mediaplanet(dot)com
646-755-7955