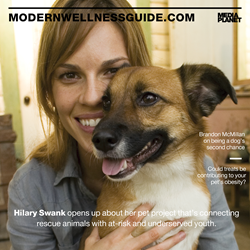 As owners feel increasingly concerned about the well-being of their furry friends, they turn increasingly to technology to provide health, happiness and safety
New York, NY (PRWEB) December 17, 2015
Aimed at both long-time and new pet owners alike, this installment is bolstered by inspiring human interest stories, which come courtesy of pet-loving celebrities and thought leaders. It also provides insight to the developing trends and tech within the industry, from leading advocates and associations—namely SureFlap.
As owners feel increasingly concerned about the well-being of their furry friends, they turn in larger numbers to technology to provide health, happiness and safety. For those exhausted by the endless inside-outside game will gratefully welcome the SureFlap Microchip Cat Door to America. A popular electronic cat door from the United Kingdom, SureFlap is already available stateside. What makes SureFlap unique is its ability to read a cat's existing veterinarian-inserted microchip or RFID collar tag to allow a cat to enter. SureFlap cat doors prevent unwanted animals getting into the home.
Using the same microchip reading technology, SureFlap has now developed the SureFeed Microchip Pet Feeder. This product deals with the problems of cats stealing each other's food or cats that need to be fed a special diet. The feeder has a lid that only opens for the right cat's microchip or RFID collar tag, keeping their food secure from other pets in the home.
The print component of "Pet Wellness" is distributed within this Thursday's edition of USA Today in Los Angeles, Nashville, San Francisco, New York and Denver, with a circulation of approximately 250,000 copies and an estimated readership of 750,000 copies. The digital component is distributed through a vast social media strategy, across a system of top news sites and partner outlets.
About SureFlap
The SureFlap Microchip Cat Door was created in the United Kingdom by quantum physicist and Managing Director, Dr. Nick Hill. Nick's cat, Flipper, loved to explore the outdoors by way of his non-selective, typical cat door, but Nick found that other animals would enter his home, spray and even fight with Flipper. This is when Nick sprang into action and developed SureFlap, providing safety, peace of mind and a high-tech solution for cat owners around the world. For more information, please visit http://www.sureflap.com.
About Mediaplanet
Mediaplanet is the leading independent publisher of content-marketing campaigns covering a variety of topics and industries. We turn consumer interest into action by providing readers with motivational editorial, pairing it with relevant advertisers and distributing it within top newspapers and online platforms around the world.