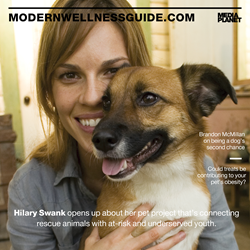 A multitude of unique factors need to be considered before determining a dog's unique nutritional needs
New York, NY (PRWEB) December 17, 2015
The latest installment serves up preventative and proactive tips pet owners can take based on the latest trends in tech and insight from key voices within the industry.
With today's wide variety of treats, supplements and food in the marketplace to choose from, the path to pet health isn't always obvious, especially when also considering each dog's unique needs. Since no two are the same, it is important to customize your pet's nutrition plan. Dr. Bernadine Cruz from pawTree's Veterinary Council states, "A multitude of unique factors need to be considered before determining a dog's unique nutritional needs. If dogs could talk, a customized diet is what they'd want."
Thankfully, there's no more guessing about what food is right for your dog, simply complete a pet profile online and pawTree recommends a custom nutrition plan complete with the right food, treats and supplements. The food is personalized with your dog's name and photo printed on the bag. By relying exclusively on people who use pawTree products to sell pawTree to others, each customer also benefits from the knowledge and training provided to each petPro. Every pawTree product is created with a passion for pets and a vision to create a world filled with unconditional love where pets and their people thrive.
About pawTree
pawTree is a better way. A better way to care for your pets with quality products and nutrition, a better way to know you're making the right decision about your pet's nutrition and a better way to share unconditional love with those you love. With 62 percent of U.S. households owning a pet and 74 percent of U.S. households having purchased products from a direct seller, pawTree is a trusted and effective solution for consumers seeking informed nutritional guidance for their dogs.
About Mediaplanet
Mediaplanet is the leading independent publisher of content-marketing campaigns covering a variety of topics and industries. We turn consumer interest into action by providing readers with motivational editorial, pairing it with relevant advertisers and distributing it within top newspapers and online platforms around the world.