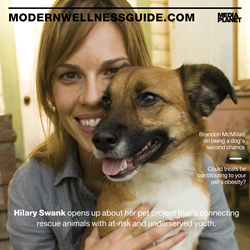 there is an urgent need to help those who can't speak for themselves
New York, NY (PRWEB) December 17, 2015
An influential resource among pet owners thanks to its distinct blend of insight and inspirational stories, the annual campaign returns once again to shed light on top trends in the growing pet wellness movement. From technological advances to exclusive interviews with key voices in the industry, "Pet Wellness" tackles in-demand topics including modernizing the health of your pet, sheltering abused animals and homelessness.
"Pet Wellness" is distributed within the Thursday edition of USA TODAY, in highly targeted markets totaling approximately 250,000 copies and an estimated readership of 750,000. The insert will be supported by an original Mediaplanet digital campaign reaching a specialized, worldwide audience. It will be concurrently promoted by a number of industry blogs, social media sites and through partners such as The Best Friends Animal Society, ASPCA, Adopt-a-Pet, Charlee Bear, Residence in Marriot, pawTree, SureFlap, Simplicity Pet Care, PetPace, LA Animal Services, FixNation, TruDog and Whistle.
Key features of the campaign include a cover story profiling the charitable efforts of Oscar-winning actress Hilary Swank, whose Hilaroo Foundation pairs at-risk youth with shelter pets in need. "Interacting with this dog that she had chosen to take care of, that still hadn't gotten her forever home—it was calming to her," Swank says of one particular pet therapy session. "She went home and her mom said that she was calm and focused and engaged in a way that she had never been before. It just shows that profound healing effect an animal can have on someone."
Also included is an exclusive one-on-one with Brandon McMillan, in which the Emmy Award-winning host and producer of "Lucky Dog" shares his professional history training rescue dogs, the job's biggest challenges, plus advice for potential pet parents. "Dogs are like a thumbprint," he explains, "so the method that might work on this dog doesn't necessarily work on the next dog. It's almost like solving a riddle every time."
About Mediaplanet
Mediaplanet is the leading independent publisher of content-marketing campaigns covering a variety of topics and industries. We turn consumer interest into action by providing readers with motivational editorial, pairing it with relevant advertisers and distributing it within top newspapers and online platforms around the world.