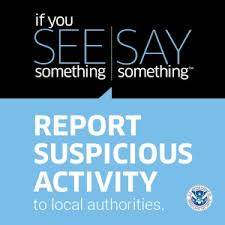 If you see something, say something.
Las Vegas, NV (PRWEB) December 17, 2015
In light of the San Bernardino tragedy and recent events around the globe, AlertID helps Americans looking to feel safe and secure in their daily lives. The Homeland Security "If You See Something, Say Something™" campaign was implemented to encourage residents to share information with authorities and raise awareness within communities. The free AlertID app helps to do just that. It allows people to stay informed of crimes and suspicious activity in their neighborhood(s) and includes a virtual neighborhood watch, giving the ability to post concerns and photos to all members in their neighborhood(s) from any location.
Informed, vigilant communities play a crucial part in keeping the nation safe. Alert citizens are the eyes and ears of law enforcement. AlertID has millions of members in all 50 states and alerts members with up to date crime and other information for the neighborhoods they care about. It also encourages members to look out for one another and share necessary information with law enforcement, helping to reduce crime.
When it comes to suspicious activity, people must pay attention to what seems out of place in their neighborhood or near their work. If something is suspicious, they must trust their instincts and contact local police. Below are examples of suspicious behavior that may be witnessed within a neighborhood or near a workplace.

Someone pays unusual attention to facilities or buildings beyond a casual or professional interest.
Someone who is recording, photographing or monitoring activities that appear to be more than just typical curiosity.
Someone who doesn't seem to belong in the workplace, neighborhood, business establishment, or anywhere else.
Someone acting in a nervous or suspicious manner.
People who are in places they should not be, as well as people who do not fit into the daily routine of surroundings or an emergency scene.
A person wearing unusually bulky, loose-fitting apparel inconsistent with current weather conditions.
Suspicious or abandoned vehicles.
For more detailed information on the 7 Signs of Terrorism (US DOJ): http://www.justice.gov/sites/default/files/usao-hi/legacy/2011/05/13/terrorisminformation.pdf
Be prepared for a home or workplace terrorist emergency by watching this important video:
https://www.fbi.gov/about-us/cirg/active-shooter-and-mass-casualty-incidents/run-hide-fight-video
About AlertID
AlertID, the nationwide neighborhood safety network, is available for free online or on a smartphone and provides information needed to keep families safe. Millions of members in all 50 states and more than 30 countries are able to view an interactive map displaying crimes, sex offenders and neighbor posts in their selected neighborhoods.
Members can receive alerts and information for multiple locations such as their homes, schools or offices including law enforcement emergency alerts, crime and sex offender alerts, severe weather alerts, fire and earthquake alerts, a library of prevention tips and much more. Additionally, the app acts as a virtual neighborhood watch where members can share photos and information regarding suspicious activity with neighbors.
The AlertID mobile app is available for download on iTunes or the Android market. To sign up for a free AlertID account or for more information, please go to http://www.AlertID.com.