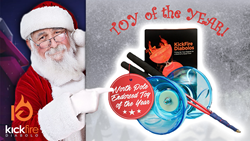 The KickFire Diabolo was not only the most often requested toy in the letters Santa received, but it is also one of the few toys that inspires children to get out and play
North Pole, Arctic Circle (PRWEB) December 17, 2015
KickFire Classics, a Utah-based company, has gotten creative with their marketing this Christmas season by releasing a video where Santa Claus and his elves select their Chinese yoyo as the North Pole Endorsed Toy of the Year. The video explains how each year, Santa and his elves receive millions of requests from children all over the world. Some of these toy requests are downright impossible for Santa's elves to fulfill. In the parody, fictional elf, Elfton Tinsel--who serves as Associate Director of Statutory and Regulatory Christmas Convention, states, "This year we have been inundated with requests for real hoverboards, dresses that turn from black and white to blue and gold every time somebody looks at them,'Tickle Me Donald Trump Dolls,' Adele's 'Hello' infused into Diet Soda, and more. There are just some requests we cannot make! We can, however, provide alternative solutions. That is why we started the North Pole Endorsed Toy of the Year Award."
According to the satire, The Toy of the Year is a prestigious award granted to high quality toys that bring out the best in children. "The KickFire Diabolo does just that!," states Ginger Bre Holmes--the fictional Public Relations Specialist within the Pre-Christmas Communications Division. Ginger, who's job it is to announce the recipient of the North Pole Endorsed Toy of the Year Award, further explains, "This year the choice was obvious. The KickFire Diabolo was not only the most often requested toy in the letters Santa received, but it is also one of the few toys that inspires children to get out and play!" Those interested in seeing the KickFire Classics Christmas video can do so now by clicking here.
While the video is meant to be fun and fictional, the KickFire Diabolo is for real. The ancient Chinese yoyo designed by KickFire Classics is being heralded as a fun skill-toy that enhances coordination and concentration. Kids love the challenge, while parents love that it's not a video game. KickFire Diabolos also provides online video tutorials by Ty the Diabolo Guy that teach children how to master various Chinese yoyo tricks. The full KickFire Diabolo line features the KickFire Comet (fixed axle, beginner, Chinese yoyo), the KickFire Nova (fixed axle, professional, Chinese yoyo), and the KickFire SuperNova (triple bearing, professional Chinese yoyo).
Christmas shoppers are in luck as there is still time to get a North Pole Endorsed Toy of the Year. And while the video may allude to the fact that Santa and his elves are falling behind in their production, KickFire Diabolos is making holiday shoppers aware that they are prepared to graciously step in to help fulfill orders during this busy Christmas season. You can secure your KickFire Diabolos here. (link to kickfirediabolos.com/Toy-of-the-Year).
About KickFire Classics:
KickFire Classics is a toy manufacturing company in Kaysville, Utah dedicated to producing high quality classic toys that are both challenging and exciting enough to lure children away from their digital devices for some good ole fashioned fun. To see the full line of KickFire Diabolos, along with other classic toys, visit KickFireClassics.com.
Contact Information:
Name: Janelle Page Misbach
Organization: KickFire Classics
Website: http://kickfireclassics.com
Email: crew(at)kickfireclassics.com
Phone: 801-800-8608
Country: United States