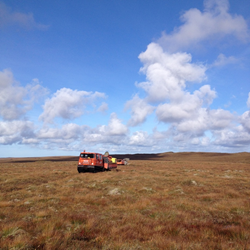 (PRWEB UK) 17 December 2015
Natural Power has successfully completed the ground investigation at the Druim Leathann Wind Farm on behalf of 2020 Renewables. This will pave the way for later construction of the remote and highly environmentally-sensitive 14 turbine development, which is due to be generating electricity by 2020.
The terrain at Druim Leathann Wind Farm proved to be challenging due to large areas being covered in peat hags and some deeper saturated peat. Low ground pressure hagglunds were effective in overcoming these challenges to enable access to all exploratory holes.
Natural Power's remote drilling team, supported by the best available equipment, spent eight weeks taking core samples of peat, glacial soils and Lewisian Gneiss for investigation. The team also completed a site-wide topographic survey using traditional DGPS and UAV drone deployed equipment across the entire project area. This not only provided an accurate ground model but also mapped the hydrological systems in high resolution.
Toby Gilbert, Head of Geotechnical Services at Natural Power, said: "We operate a well-invested geotech fleet which enables us to take on challenging projects whilst ensuring safety, quality and efficiency for all site investigation projects.
"Our team was able to complete this highly sensitive project with the utmost professionalism, whilst providing advice and guidance on the most appropriate course of action as the project moves towards construction."
Due to the environmental sensitivity of the area (proximity to Scottish Water drinking reservoirs), the site was carefully managed to minimise the impact on the moor landscape.
Colin Lees, Development and Construction Consultant at 2020 Renewables, said: "Natural Power did a sterling job at Tolsta and managed the project very well. The site management and operatives had a first class attitude, and health and safety and environmental control was managed well. We were within a Scottish Water catchment area and suffered no issues whatsoever. Our thanks go to the team at Natural Power."
Natural Power has a fully developed in-house, high performance all terrain drilling platform providing bespoke, high quality and advanced site investigation solutions for any size of project. The geotechnical team is fully resourced with experienced drilling crews, on-site geologists and geotechnical design engineers capable of delivering site investigation to the latest Eurocode standards.
About Druim Leathann Wind Farm
The £70m Druim Leathann Wind Farm was granted planning permission in April 2013 amidst some controversy when Councillors went against their own policy to grant permission due to the resounding support of the local community on the Isle of Lewis.
The 46.2MW development is located on a 261 hectare site in the north-east of the Isle of Lewis, approximately 16km north-east of Stornoway and approximately 2km to the west of Tolsta. The site mostly lies within a boggy moor landscape and rises to 100 to 110m above ordnance datum (AOD).
The impact of a project of this size will have an incredible impact the Lewis community. The community benefit payments could be worth £294,000 per year - £7m over the lifetime of the development.
The wind farm is expected to bring £63m to the Lewis economy and create 70 jobs during construction.
ENDS
About Natural Power
Natural Power is a leading independent renewable energy consultancy and products provider. The company offers proactive and integrated consultancy, management and due diligence services, backed by an innovative product range, across the onshore wind, offshore wind, wave, tidal, renewable heat, solar pv and hydro sectors, whilst maintaining a strong outlook on other new and emerging renewable energy sectors.
Established in the mid 1990s, Natural Power has been at the heart of many groundbreaking projects, products and portfolios for more than two decades, assisting project developers, investors, manufacturers, research houses and other consulting companies. With its iconic Scottish headquarters, The Green House, Natural Power has expanded internationally and now employs 320 renewable energy experts.
http://www.naturalpower.com
https://twitter.com/Natural_Power
https://www.linkedin.com/company/natural-power