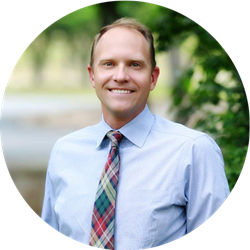 Castle Pines, CO (PRWEB) December 17, 2015
Individuals who would like to receive dental implant restorations from an experienced and trusted dentist in Castle Pines, CO, are now invited to make an appointment with Dr. Matthew Rolfson. In addition to being named Fellow of the American Society of Implant & Reconstructive Dentistry (ASIRD), Dr. Rolfson has also shown his dedication to dental care by helping form an implant study club. This club meets together regularly and receives mentoring and training from dental implant experts across the country.
Patients in need of dental implants restorations from a highly trained and qualified dentist in Castle Pines, CO, are invited to meet with Dr. Matthew Rolfson for a consultation. Dr. Rolfson has been named Fellow of ASIRD and has helped to form an advanced implant study club that provides him, and other dental professionals, with advanced education and hands-on training in restoring implants. Dr. Rolfson has been meeting with a study group for more than 10 years under the direction of a corporate implant company, but recently formed his own club in order to receive more advanced training from a wider range of dental implant experts. The meetings are held on a quarterly basis in Englewood, Colorado, and take place at the Inverness Hotel and Conference Center.
The dental professionals involved in the implant study club make it their goal to increase their abilities to skillfully restore their patients' most complex implant cases. Not all dental implant procedures are straightforward and easy to execute, and in some cases, patients experience complications during or after implant placement. Dr. Rolfson seeks to increase his understanding of complicated implant restorations in order to provide his patients with this best possible procedural outcomes.
Dr. Rolfson urges patients who are interested in receiving dental implant restorations from a trusted dentist in Castle Pines, CO, to call his practice and set up an appointment.
About the Doctor
Castle Pines Dental Care is a general practice offering personalized dental care for patients in Castle Pines, CO since 2002. Dr. Matthew R. Rolfson graduated from the University of Colorado School of Dentistry. Dr. Rolfson then served in the Navy Dental Corps for three years and completed a General Practice Residency at the Naval Hospital Camp Pendleton. Dr. Rolfson believes no one should go without the smile they deserve. To learn more about Castle Pines Dental Care and the services they offer, visit their website at http://www.castlepinesdentalcare.com or call (303) 660-0782 to schedule an appointment.