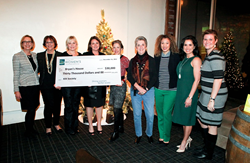 Dallas, Texas (PRWEB) December 17, 2015
Dallas Women's Foundation's XIX Society awarded its first grant to Bryan's House to provide specialized child care to single mothers whose children have severe health needs. The XIX Society is a newly formed network of advocates and friends who raise funds and awareness for Dallas Women's Foundation through their individual circles of influence. Following the example of the 19 founders of the Foundation, members are united in a commitment to provide annual gifts that support the Foundation and fund a grant to a North Texas organization serving the needs of women and girls.
"The inaugural members of the XIX Society are proud to choose Bryan's House as our first grant recipient," said Jennifer Evans Morris, XIX Society 2015 Steering Committee Chair. "Our $30,000 investment helps to cover the cost of medically managed child care for children. This allows mom to secure her finances, earn stable employment and find affordable housing. Through our grant, moms without a parenting partner will be empowered to solve their own problems by developing appropriate skills and tools, all while knowing their child is receiving quality care."
According to Dallas Women's Foundation's Economic Issues for Women in Texas study, 62 to 70 percent of jobs in the Dallas metro area do not pay enough for a one-parent, one-child family to make ends meet and save a little for a college education or retirement. For single mothers whose children have conditions requiring medical management, Bryan's House can make a critical difference by helping address a wide range of their needs, from stable housing to affordable child care, so that they can focus on providing for their family.
"Typical child care costs 22 percent of a single mother's income in Dallas, and that number only further escalates for families with children who have complex health needs that require expert care. Through the selection of Bryan's House, the XIX Society grant unleashes a powerful ripple effect, benefitting not only mom, but also her children," said Roslyn Dawson Thompson, president and CEO of Dallas Women's Foundation. "We invite men and women alike to become part of the XIX Society and part of our collective impact by advocating and empowering women and girls across North Texas."
Members of the XIX Society selected Bryan's House as their grant recipient following h the Foundation's rigorous review process, which includes a financial review, site visits by trained volunteers, and board review and approval. With the grant from the XIX Society at Dallas Women's Foundation, Bryan's House expects to serve 62 moms in their Single Working Mothers Program, with 75 percent of the moms advancing in self-sufficiency and income at the end of one year. To join or learn more about Dallas Women's Foundation's XIX Society visit: http://www.dallaswomensfdn.org/nineteen.
About Dallas Women's Foundation
Dallas Women's Foundation is the largest regional women's fund in the world. It is a trusted leader in advancing positive social and economic change for women and girls. The Foundation was built on the belief that when you invest in a woman, there is a ripple effect that benefits her family, her community and her world. Dallas Women's Foundation has researched, funded and demonstrated the ripple effect since 1985 in North Texas, granting more than $30 million since inception and over $4 million annually to help create opportunities and solve issues for women and girls. With the support of its donors, the Foundation unlocks resources to improve education and quality of life, give voice to issues affecting women and girls, and cultivate women leaders for the future. For more information, visit http://www.DallasWomensFdn.org, Facebook, Twitter, LinkedIn, or Instagram.
# # #