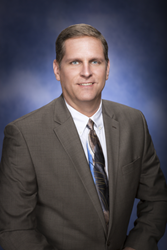 Huntingdon, Pennsylvania (PRWEB) December 23, 2015
Bryan L. Griffie joined Mutual Benefit Group as senior claims representative on December 7, 2015. In this role he is responsible for investigating, evaluating, and negotiating settlement of multiline claims in Eastern Pennsylvania.
A 1989 graduate of the Susquehanna University Sigman Weis School of Business, Griffie also has earned the Vale Tech property appraiser certification, the Haag Roofing certification, flood certification, and has attended property technical certification classes.
Griffie and wife Paula have been married for 25 years. The couple has two sons: Ty Hunter Griffie, 22 years old, and a senior psychology major at Liberty University; and Bryce Palmer Griffie, 19 years old, and a freshman biology major at the University of Pittsburgh at Johnstown (PITT Johnstown).
Mutual Benefit Group is a regional property/casualty insurance carrier headquartered in Huntingdon, Pennsylvania, that has been providing coverage for personal autos, homes, and businesses since 1908. The company's insurance products are underwritten through its member companies, Mutual Benefit Insurance Company and Select Risk Insurance Company. Rated A- (Excellent) by A.M. Best, Mutual Benefit serves nearly 75,000 policyholders in Pennsylvania and Maryland through 250 independent insurance agents.