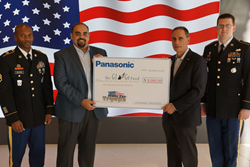 Newark, NJ (PRWEB) December 17, 2015
The GI Go Fund was once again the beneficiary of the tremendous generosity of the employees and executive leadership of Panasonic, one of the leading electronic companies in the world, as the corporation once again joined in the Jeans for Troops drive honoring Veterans Day, raising $9,000 to benefit the organization and the veterans they serve.
This is the second year in a row that Panasonic has contributed to the organization during the Jeans for Troops Drive, raising nearly $15,000 in that time. The company also matched its employees' donations to the GI Go Fund's Jeans for Troops Drive, leading the way for other companies to take charge in supporting our military veterans.
Panasonic CFO & Treasurer Mike Riccio was joined by members of the Newark Recruiting Company to present the check to members of the GI Go Fund at the company's headquarters in Newark, NJ.
"I am simply blown away by the level of generosity and patriotism Panasonic has shown these past two years," said GI Go Fund Executive Director Jack Fanous. "Panasonic has seen all that we do for our veterans, and they recognize the importance of our mission. They have been leaders in the corporate world for generations, and I am proud to say that they are leading the way for other companies to show their support and participate in future Jeans for Troops drives."
The success of the drive at Panasonic was due in large part to the great work of Stephen Cafiero, Group Manager EEO/AA/Recruiting & Inclusion at Panasonic, who promoted the drive within the company, helped increase funds raised through online donations, and made employees aware of all the great work that the GI Go Fund does for veterans.
During the "Jeans for Troops" program, schools, companies, and all other employers that choose to participate allowed their employees to wear jeans to work on November 12 in exchange for a $5 donation to the GI Go Fund, a 501(c)(3) nonprofit organization dedicated to assisting all veterans with their needs upon their return home from combat. This year, over 2,100 schools, companies, and government agencies took part in a nationwide movement to support returning veterans this Veterans Day and help them get the assistance they need as they come home.
The GI Go Fund is an organization on the cutting edge of offering support to veterans, providing veterans with innovative ways of finding employment, securing their educational and health benefits, as well as providing aid and assistance to low income and homeless veterans. Since their founding, the organization has helped tens of thousands of veterans improve their lives and give them the capacity to provide and care for their loved ones. For more information, visit http://www.gigofund.org.