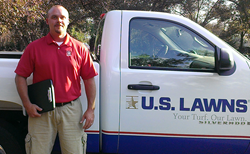 I strive to improve my life one percent each day.
(PRWEB) December 21, 2015
U.S. Lawns franchisee Ronnie Christopher (Warner Robins, GA) shared his goals and plans for the New Year and beyond in an article written by Kristen Hampshire for Lawn and Landscape magazine.
His goals are not just for business. They are more holistic. Christopher addresses both personal and professional growth goals. "I think it's imperative that you sit down and plan time to grow yourself and the business. The practice of setting goals positions you to achieve them," he says.
His personal goals focus on gratitude, physical exercise, mental aptitude and spiritual and emotional health. "I strive to improve my life one percent each day," he said. "If I can achieve this goal, then every 30 days I have become 30 percent better than I was."
One of his business goals is to achieve a 25% growth of his own business, and another is to come up with 10 ideas per week for other business owners in his area. He serves as ambassador for the local chamber of commerce. "When I go to meetings, I ask other business owners, 'What are you struggling with?' And I listen to them, and I think about it. I try to call them or shoot them an email with ideas that may help. I'm a believer that if you help others grow their businesses, you'll grow your own."
To connect to full article click:
http://uslawns.com/one-percent-better-business-goal-for-u-s-lawns-franchisee/