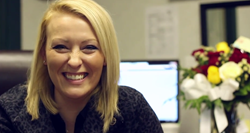 As AMR grows to meet the increasing demand for metal roofing products, recruiting value-driven, dedicated employees is paramount. -Frank Farmer, President AMR
Flint, Michigan (PRWEB) December 18, 2015
American Metal Roofs (AMR) has recently released a short recruitment video produced with clips of their employees speaking from the heart about their experience working at AMR. The video highlights candid interviews of employees who share the values of working in a positive team environment. Employees discuss taking pride in their work and how they have fostered lifelong friendships with their colleagues.
In an ongoing mission to provide unprecedented customer service in the home improvement industry, we are actively seeking and recruiting talented and passionate people to become part of the AMR family. - Frank Farmer, President American Metal Roofs
The new recruitment video can be seen here: https://jim.wistia.com/medias/9zqrxru1te
Frank Farmer, founder and CEO of American Metal Roof's (AMR) has created this video to show prospective employees that the company's success is largely due to the passion and commitment of their people. He cites that as AMR grows to meet the increasing demand for metal roofing products, recruiting value-driven, dedicated employees is paramount.
Those people interested in learning more about the career opportunities at American Metal Roofs, are encouraged visit their website or contact the office directly.
About American Metal Roofs:
American Metal Roofs provide residential and commercial metal roofing products and services throughout Michigan. Customers receive stunning, permanent, energy-saving metal roofs, professionally installed. http://www.AmericanMetalRoofs.com