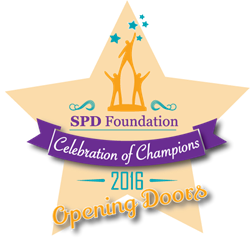 Guests will be treated to a special presentation from Temple Grandin after she receives this prestigious award.
Denver, CO (PRWEB) December 18, 2015
On December 16, 2016 the Sensory Processing Disorder (SPD) Foundation announced the honoring of Temple Grandin as the 2016 Champion of Inspiration. Temple Grandin will attend the March 11, 2016 3rd Annual Celebration of Champions taking place in Denver, CO at The Studios at Overland Crossing. Guests will be treated to a special presentation from Temple Grandin after she receives this prestigious award. This entertaining and inspiring evening will also include a hosted bar, gourmet food, silent auction, live auction by Lititia Frye (Auctiontainer), and Denver 7's Chief Meteorologist Mike Nelson will serve as Master of Ceremonies.
The event theme "Opening Doors" helps to illustrate the impact Temple Grandin has had on the world. As she's lived her life she's created a tidal wave of awareness and opened up many more possibilities for people affected by autism spectrum disorder. Much of the world fails to realize that many people experiencing autism spectrum disorder also experience Sensory Processing Disorder. It's estimated that Sensory Processing Disorder affects 1 in 20 children, which is significantly more than the estimated 1 in 88 children affected by autism spectrum disorder. Dr. Lucy Jane Miller, founder of SPD Foundation and STAR Center says, "Sensory Processing Disorder is a neurological condition that is often misidentified as a behavior problem or goes untreated. The Celebration of Champions event raises awareness of SPD and obtains funding for SPD research that will directly impact sensory strategies, providing help and hope for families with a child with SPD."
Tickets for the Celebration of Champions will go on sale mid-January. For more event information and details visit: http://www.spdfoundation.net/events/championsgala/
This neurological disorder disrupts the way an individual processes and responds to sensations. A person with SPD usually has difficulty with social interactions, emotion and behavior regulation, and/or motor performance. SPD affects daily activities and relationships impairing quality of life and includes the sensory challenges associated with autistic spectrum disorders, attention deficit disorders (ADD and ADHD), anxiety disorders, emotional and behavioral disorders, learning disorders, and other developmental issues.
About Sensory Processing Disorder Foundation
The Sensory Processing Disorder (SPD) Foundation, a Colorado 501(c)(3), is the world leader in research, education, and awareness for Sensory Processing Disorder, a neurological condition that disrupts the daily lives of more than 4 million Americans. The SPD Foundation offers educational programs, conducts SPD research, and provides resources for parents worldwide. Dr. Lucy Jane Miller, widely recognized as a leader in SPD research worldwide, founded the SPD Foundation in 1979. The SPD Foundation provides hope and help to individuals and families living with SPD. For more information, visit SPDFoundation.net or call 303-794-1182.