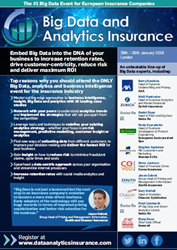 Unlike other data events, this meeting will focus on the challenges faced by the insurance industry specifically.
LONDON, UK (PRWEB UK) 18 December 2015
According to SAS over one in 10 insurance claims is fraudulent. Opportunities for subrogation get lost in all the data. Insurers overpay when trying to settle claims too quickly. The insurance industry has been struggling with the volumes of data they manage daily, and now finally has the conversation opened up for insurers to work together and discuss best practices.
Next month in London, Big Data IQ is holding the annual Big Data and Analytics for Insurance summit from the 26th – 28th of January. This established meeting will create a platform for insurers to network, collaborate, and solve challenges together surrounding their data handling and strategies. A month away, the meeting already has some renowned speakers confirmed, including:

Barry Hawkins, Head of Dynamic Underwriting and Pricing at AXA
Kirill Pankratov, Head of Business Analytics and Market Research at Zurich Insurance Company Ltd.
Daniel Ryan, Head of R&D - Life&Health & Big Data at Swiss Re
Colin Lethbridge, Aviva's Interim Data Governance Lead, Aviva plc
Elena Rasa, Group Chief Data Officer at Generali Group
Jason Cabral, FCAS MBA, Group Head of Pricing and Management Information at Zenith Insurance and the Markerstudy Group
Reza Khorshidi, D.Phil. (Oxon), Head of Quantitative Analytics, EMEA and Special Projects Lab at AIG
Dilip Singh, Deputy Head of Pricing at 1st Central Insurance
Stephen Ingledew, Managing Director, Customers & Marketing at Standard Life
Paola Scarabotto, Head of Business Intelligence and Product Engineering at Groupama Assicurazioni S.p.A.
Gianluca Antonini, Information Strategy Manager - Director - Information Technology at Swiss Re
Fredi Lienhardt, VP, Big Data & Smart Analytics Centre at Swiss Re
Paul Schofield, Customer Insight Manager at The Co-operative Insurance
Wolfgang Hauner, Head of Data Analytics at Munich Re
Howard Barber, Head of CRM and Analytics at Standard Life
"Unlike other data events, this meeting will focus on the challenges faced by the insurance industry specifically. We have been working with the financial services for years and have homed in specifically on the insurance industry for the past 12 – 24 months in order to create a programme which focuses on the attendee and his or her specific needs, including their most pressing challenges and what they have been doing from a best practice point of view," commented Big Data IQ's Commercial Manager Pamela McLoughlin.
The Summit features a blend of talks, panels and discussions, focusing on insurers' challenges surrounding data validation, storage, and utilisation. To find out more about the issues that will be addressed at the forum visit http://www.dataanalyticsinsurance.com, or email enquire(at)iqpc(dot)co.uk.