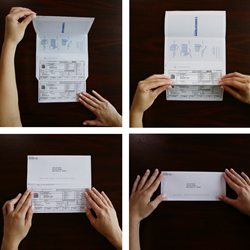 Boca Raton, FL (PRWEB) December 17, 2015
As the 2015 tax season ramps up, there is some good news for accounting firms that use Intuit/QuickBooks, accounting and tax preparation software. Laser Substrates, Inc. has introduced new tax form self mailers that not only simplify the reporting process; they also reduce the liability of confidential data breaches that can arise with conventional QuickBooks forms.
"Pre-printed Intuit and QuickBooks tax forms print out with two taxpayers per page," explains Mark Nelson, Director of Operations at Laser Substrates. "The forms are then separated at the perforation and must be matched with copies B and C and placed in the correct window envelope. These multiple steps leave the door wide open for potential mix-ups that can have devastating consequences for all parties involved."
In contrast, LaserSubstrates' tax form self mailers eliminate any potential confidentiality breach by having all copies self-contained within a single form. These patented, Internal Revenue Service (IRS) compliant forms allow users to print federal and state tax forms in a single pass through any non-impact printer. They are compatible with any Windows-based accounting or tax preparer's software—including all Intuit and Sage-brand products. Thanks to the self-mailer format, the documents can go directly from the printer to the mailbox with just a few quick folds. No separate envelope is required.
Security risks are not the only reason for preparers to be wary of traditional tax forms. Since the forms must be separated and collated, they involve more manual effort on the part of administrative personnel who are already pressed for time. Moreover, conventional forms require approximately 50 percent more print time, since several copies must be printed. Says Nelson, "Laser Substrates has really streamlined the entire process, reducing multiple steps down to just one. For firms that are processing hundreds or thousands of forms for their clients, this kind of time savings is invaluable. As an extra bonus for our end users, we've even eliminated the ¾ inch perforated margin that typically must be removed before conventional tax forms are mailed."
The tax form self-mailers work in tandem with downloadable, user-friendly TransForm tax software, which obtains print stream data from the user's accounting software but does not impact the host software in any way. Two versions of TransForm tax software are available: a robust version for the tax preparer and another for the taxpayer. Users may print the 1040 ES or 1040 V with options for: Certified Mail, payment check, signature, and postage (via Stamps.com).
Those interested in learning more about Laser Substrates' tax form self-mailers will find a demo video and ordering information at http://www.tax-form-self-mailers.com.
About Laser Substrates, Inc.
Located in Boca Raton, Florida, Laser Substrates, Inc. is the leading provider of PC-based and web-based software solutions to automate the generation of USPS Certified Mail forms. Laser Substrates, Inc. also develops, manufactures, and markets engineered laminated business forms compatible with today's most popular laser and inkjet printers.
CONTACT:
Mark Nelson, Director of Operations
mnelson(at)lasersub(dot)com
(800) 538-4900