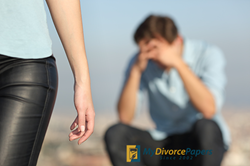 Rancho Santa Margarita, CA (PRWEB) December 19, 2015
The feeling of abandonment after a divorce is final is common, says MyDivorcePapers. The company has found that 80 percent of divorces are driven by one party. To assist the left behind, the site has put together a new tip sheet for how to cope with abandonment. Here's what they recommend:
Tip 1: Get Active.
When coping with unwanted divorce papers, it's easy to sit around and feel sorry for oneself at the realization that someone you've pledged your life to doesn't want to be with you, the site notes. But it's in your best interests to get active and stay that way - physically, mentally, and socially. All of these qualities can help one deal with the fallout from being abandoned. The site acknowledges that it might not feel natural at first, but by giving yourself other activities to focus on, two things tend to happen: 1) The pain starts to dull; and 2) You start to see a purpose for yourself outside of the marriage.
Tip 2: Confide In A Trusted Person.
MDP knows from observing some of their clients that an essential part of getting over abandonment is to find a confidante. This can be either a trusted friend/family member or it can be a paid professional. Many times it is better to work with a counselor directly because loved ones may be too close to the situation and feel the need to offer advice. It's far better to work out matters on your own, and that's where a good counselor can come in to play.
Tip 3: Look Forward.
MDP encourages clients to not ask the question of "Why?" but to instead answer the question of "What's next?" When someone decides they no longer want to be married, the site notes, that isn't a decision that a person can change. All the lamenting and second-guessing in the world won't undo it, so you might as well focus on the future and all the ways you're going to make it better than the present and the past. The site recommends setting daily, weekly, monthly, and yearly goals so that you always have something to look forward to.
MyDivorcePapers.com provides affordable divorce forms for couples in agreement regarding their divorce plans. Clients seeking this method benefit from the assistance of affordable rates and dedicated case managers, who work to ensure accuracy each step of the way.
###