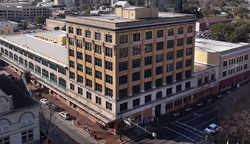 One Palafox Place's premier location, progressive redevelopment and high visibility were among the factors that attracted McMahon & Hadder.
Pensacola, Fla. (PRWEB) December 18, 2015
A well-known, independent insurance company will soon be moving to the Moulton Building at One Palafox Place, located at 3 W. Garden St. in historic downtown Pensacola.
McMahon & Hadder Insurance, Inc., will move from its existing office on North Ninth Avenue to the ground floor, 6,500-square-foot suite space at One Palafox Place in the spring of 2016. The building is currently undergoing renovation and is expected to be complete in March.
McMahon & Hadder provides comprehensive personal, commercial and health insurance services throughout Northwest Florida. The agency is headquartered in Pensacola with an additional office in Destin, Florida.
"Location plays a pivotal role in the success of service-oriented businesses, and One Palafox Place's premier location, progressive redevelopment and high visibility were among the factors that attracted McMahon & Hadder," said Billy Lovelace, Leasing Agent for One Palafox Place. "We expect them to enjoy great success here."
One Palafox Place consists of 4.5-acre city block in the Pensacola Historic District that ranges from Palafox to Baylen streets and Garden to Romana streets. The block features approximately 200,000 square feet of commercial space under the roofs of seven buildings, which includes two historic Pensacola landmarks – the century-old Blount and Brent buildings.
In November, Cowork Annex was announced as the first new anchor tenant coming to the Brent Annex in the newly reimagined One Palafox Place. The unconventional and flexible shared workspace environment is an attractive amenity that no other local commercial real estate development offers.
This week, large-format signs have been installed around the exterior of One Palafox Place with renderings depicting forthcoming renovations. The public is invited to see what the future of One Palafox Place will become.
The landmark property, led by managing partner Robert Switzer, is currently undergoing major renovations — including a modernization of the exterior, first-floor lobbies, vestibule entrances, bathrooms, all common interiors, exterior courtyards and soon to be available retail, residential and additional office.
Lovelace added "Aside from the historical significance, this is a unique property in that it allows both small, mid-sized and larger tenants to have a significant presence in a premier office asset with ample parking and immediate access to major thoroughfares, such as Interstate 110 and U.S. 98."
For general information, contact Giffney Nagel at (850) 433-2845 or info(at)onepalafoxplace(dot)com. For leasing information, contact Billy Lovelace at (850) 572-2023 or billylovelace1(at)gmail(dot)com.
About One Palafox Place
One Palafox Place, LLC is a historic redevelopment of a century-old landmark property located in the epicenter of downtown Pensacola, Fla. The reimagined and redeveloped city block will become a mixed-use community where restaurants, retail shops and offices will work in partnership with residential living and public gathering areas. This unique collaboration will create an "urban village" where people will live, work and play in a premiere location and make One Palafox Place the focal point of downtown Pensacola's remarkable revival.
For more information on One Palafox Place, go to http://www.onepalafoxplace.com.