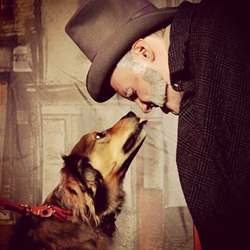 While all the other characters fear or chastise Scrooge, Bravo offers him sincere kindness as only a dog can do.
New York, NY (PRWEB) December 19, 2015
"Even the dogs have gone mad!" screams Ebenezer Scrooge as he exits after a caroling dog licks his face in the opening of "A Christmas Carol" the musical by Michael Sgouros & Brenda Bell – now in its 7th year at the Players Theatre in New York City's Greenwich Village. While all the other characters fear or chastise Scrooge, the dog – played by rescue dog Bravo – offers him sincere kindness as only a dog can do.
"This year, the role of the dog, normally played by a child, is played by a real dog and he is warming the hearts of everyone who sees the show" stated Brenda Bell, playwright and director of the production. Bravo isn't just any dog, he is Brenda Bell's 6-year old collie mix that she adopted on December 1, 2009 when he was less than 3 months old. Bravo is working for treats so that his "actor" pay can be donated to Bideawee, the shelter that rescued him and his two sisters.
"The first place Bravo went to on the day I adopted him was the Players Theatre" said Ms. Bell "and he has been at home here ever since. He greets everyone that comes to the theatre, gives reassuring snuggles and kisses to nervous auditioning actors and has earned his title as Head of Guest Relations."
Bell credits much of Bravo's loving nature to the nurturing and attentive start he got from Bideawee. She often includes Bravo in the pre-show family workshops and talks about pet adoption for families. Melissa Treuman, Bideawee spokesperson, stated "We always say that before our pets become a member of your family, they are a member of ours. We provide them with love, socialization, medical care and training to ensure a smooth transition from our home to yours. Our goal has always been to cultivate lifelong relationships with people and pets, and we are grateful to Brenda and Bideawee alumni, Bravo Bell, for helping us to highlight our mission, and showcase the wonderful animals that make up the Bideawee family."
While Bravo only has a small part in the show he has a big heart that he readily shares with all who come to the theatre. Over the years a number of patrons have credited their experience with Bravo as the catalyst for them adopting a pet. Bravo hopes to continue his role as adoption ambassador all year long and wants everyone to know that finding a forever is home is no humbug.
"A Christmas Carol" runs through December 30th on Thursday, Friday and Saturday at 7p. Saturday matinee at 3p and Sunday Family Matinee at 11a and a 2p matinee. Additional holiday performances are scheduled. Performances are at the Players Theatre located at 115 MacDougal Street (between Bleecker and West 3rd). Tickets are $32-$52 and can be purchased online or by calling 212-352-3101 or 1-866-811-4111.
About Bideawee: For more than 112 years, Bideawee has been the leading pet welfare organization serving metropolitan New York and Long Island. Through a vast array of services Bideawee cultivates and supports the life-long relationships between pets and the people who love them.
Additional Resources:
Info on families adopting pets:
Article on giving pets as a holiday gift:
Visit the production website for more info on Bravo Bell