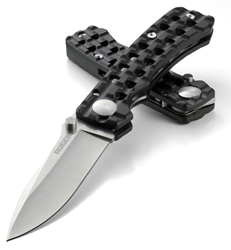 (PRWEB) December 20, 2015
The Go-N-Heavy™ is part of the exclusive Ruger® knife line; the line includes designs for everyday carry, hunting, tactical uses and self-preparedness. The knives are crafted in varying sizes and finishes, with an assortment of blade edges. Developed by five master knife-smiths who combined their knowledge of the art with aesthetic details from Ruger® firearms, the line offers unique knives with the important features that every good knife should have. These knives are purpose built to be durable and highly functional in the environments where Ruger customers will expect them to perform.
The Go-N-Heavy™ is what a capable knife is supposed to feel like. Oregon designer Bill Harsey gave it one rugged backbone to stand up to any challenge it meets. Black hard-anodized aluminum handle with machined AR style features for a positive grip. Locking liner secures the blade that allows for a low profile knife. The drop point blade is a full 5 inches and it includes a Velcro® closure reinforced nylon sheath for convenient carry.
Manufactured by CRKT® under license from Sturm, Ruger & Co., Inc.
PRODUCT SPECIFICATIONS
Go-N-Heavy™
SKU: R1801
Blade: Length: 5.0" (127 mm)
Edge: Plain
Steel: 8Cr13MoV, 58-59 HRC
Finish: Stonewash
Thickness: 0.185" (4.7 mm)
Overall: 11.18" (283.9 mm)
Weight: 5.8 oz. (164.4 g)
Handle: Black Hard Anodized Aluminum
Style: Folding Knife w/ Locking Liner
Sheath: Nylon
Also available with Veff Serrations™ (model R1802) and compact versions (models R1803 & R1804).
For more information on the Go-N-Heavy™ models or the entire Ruger® product line go to http://www.ruger.com/crkt
Founded in 1994, CRKT® is the industry's premier brand of knives, tools, and lifestyle accessories, with a reputation for innovative design. For more information, call: (800) 891-3100, email: info(at)crkt.com, on the web: http://www.crkt.com
###