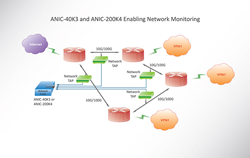 Garland's TAPs exceeded the demanding benchmarks and high performance requirements of our mission critical testing protocol
Buffalo, NY (PRWEB) January 05, 2016
Leading TAP Manufacturer, Garland Technology, joins forces with Accolade Technology to provide 100% data access for 100% packet capture.
Accolade's ANIC products assure 100% packet capture, enabling real-time network monitoring and analysis. The combination of Garland Technology's 10G, 40G and 100G passive fiber network TAPs and Accolade's ANIC adapters provides a compelling high-performance network monitoring solution featuring:
Lossless packet capture
Hardware time stamping
Real-time network analysis
Packet filtering
Network management
"We partnered with Accolade to test and validate our new 10G, 40G and 100G passive fiber TAPs with Accolade's market leading ANIC-40K3 and ANIC-200K4 application acceleration adapters." explains Chris Bihary, CEO and Co-Founder of Garland Technology. "This is a prime example of how the network visibility community works together on joint solutions to ensure 100% packet capture in network monitoring and analysis appliances."
Network traffic demands are exploding out of control as users demand greater access to data at faster speeds. Network architectures are sprawling as a result, leaving companies to search for more effective network monitoring and analysis solutions for both security and performance purposes.
"We have rigorously tested our products against Garland Technology's comprehensive line of 10G, 40G and 100G passive fiber network TAPs and are pleased to announce our technology partnership." said Robbie Dhillon, CEO of Accolade Technology. "Garland's TAPs exceeded the demanding benchmarks and high performance requirements of our mission critical testing protocol."
Network TAPs are considered the best practice by network professionals when 100% packet capture and traffic visibility is required. Companies that still rely on their traditional SPAN port will eventually experience lost packets from oversubscribed ports, thus making their network monitoring and analysis appliances ineffective.
"As we continue to make strides to adapt to new network visibility standards, it's critical to align with technology partnerships like Accolade to ensure 100% packet capture." said Bihary.
About Garland Technology
Garland Technology guarantees precise data monitoring capabilities with a full line of access products: network TAPs that support aggregation, regeneration, bypass and breakout modes; packet brokering products; and cables and pluggables. We want to help you avoid introducing additional software, points of failure and bulk into your network. Garland's design and education-based approach takes you from square one to a network design specialist.
Your Garland Technology network designer works directly with you and your team to meet your network access needs and provide you with the best solution in the solution areas of network analyzers, intrusion detection, intrusion prevention systems, bandwidth management, computer forensics, data capture, content filtering, data leakage prevention, and lawful interception.
For more information, visit http://www.garlandtechnology.com.
About Accolade Technology
Accolade is the technology leader in high performance FPGA-based packet capture and application acceleration adapters/NICs serving global OEM network security and monitoring appliance customers. Customers integrate Accolade's ANIC adapters into their network appliances to perform advanced packet capture and processing functions. Accolade's ANIC series of advanced Adapters are optimized to offload multi-core host CPUs in a variety of target applications including network monitoring, network/cyber security, (IPS, IDS, DPI, DDoS, Network Forensics) network test, latency measurement and video monitoring. Accolade's NICs offer lossless packet capture at Line Rate, the richest acceleration feature sets at the best value per GigE port in the 1-100G performance spectrum.
For more information, visit http://www.accoladetechnology.com