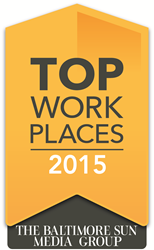 Whether we work remotely, in an office building, or a combination of both, the Connections team is united in our commitment to serving students across the globe
Baltimore, MD (PRWEB) December 17, 2015
Connections Education (http://www.connectionseducation.com), a leading provider of online learning solutions for students in grades K-12, is pleased to announce that it has been named a 2015 Baltimore Sun Top Workplace for the third consecutive year. Top Workplace awards are determined based solely on employee feedback through a survey conducted by Workplace Dynamics, LLP, a leading research firm on organizational health and employee engagement.
"We pride ourselves on being a collaborative organization of talented professionals who work together to provide schools and districts virtual learning services, high quality digital courseware and technology. Whether we work remotely, in an office building, or a combination of both, the Connections team is united in our commitment to serving students across the globe," said Dr. Steven Guttentag, president and co-founder of Connections Education.
The Baltimore Sun Top Workplace award reflects Connections Education's long-standing corporate culture of caring and excellence. Recognized in the large company category (400+ employees), the Connections Education workforce includes more than 3,700 employees nationwide. More than 900 employees work across Maryland, and, perhaps unsurprisingly for an e-learning company, 52% of company employees nationwide work from home.
Award Tops Growing List of 2015 Honors
Since supporting its first online school in 2002, Connections Education has nurtured and challenged students to help them reach their highest potential. In addition to Top Workplace recognition, the organization received the following program awards in 2015:

Renewed AdvancED Accreditation
SmartCEO Corporate Culture Award for Dispersed Workforces
Tech & Learning Award of Excellence for Best Upgraded Products
District Administration Reader's Choice Award
USDLA Award for Outstanding Leadership by an Individual in the Field of Distance Learning
EDDIE Award for K-8 Suite of Music Courses
EdTech Digest Cool Tool Award Finalist
CODiE Award for Middle School Art
BESSIE Awards for Exemplary Educational Software
A recent employee satisfaction survey conducted by a third-party organization revealed that 86% of employees rated their overall satisfaction working at Connections Education an A or a B. Employees also agreed that they are prepared to perform their jobs and that providing quality services to customers is the most important priority of Connections Education.
For a complete list of employee benefits, visit the Careers section of the Connections Education website.
About Connections Education
Connections Education is a leading provider of high-quality, highly accountable virtual education solutions for students in grades K–12. The company's Connections Academy delivers individualized learning to students through tuition-free virtual public schools. In the 2015–2016 school year, Connections Academy supports 30 virtual public schools in 26 states—serving ~65,000 students. Connections Education offers a fully online private school for students worldwide and delivers blended (combination of online and on-site) learning in seven states via tuition-free, public, Nexus Academy schools. The Connections Learning by Pearson division meets the needs of schools, school districts, and other institutions with a full range of digital learning solutions for grades K–12 including: online courses, a program for homebound students, a digital learning platform, and private and public online schools. Connections Education is based in Baltimore, Maryland and was named a 2015, 2014 and 2013 "Top Workplace" by the Baltimore Sun and a 2013 "Best Place to Work" by Baltimore magazine. Connections Education is part of the global learning company Pearson.