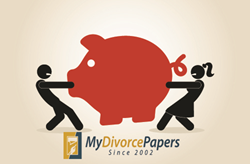 Far too many couples are allowing emotions to dictate their behaviors through the divorce process,
Rancho Santa Margarita, CA (PRWEB) December 21, 2015
Every year couples filing divorce forms cringe at the thought of the financial impact that their decision might have, and more often than not, they are correct. One report from NBC News noted that men and women usually take a financial hit after the papers are finalized, and according to USA Today, this is often due to common oversights like not being able to see the long-term, gunning for revenge against a spouse at all costs, and not understanding all the moving parts in a divorce.
As examples on this last point, Wendy Spencer, CFP and president of Spencer Capital Strategies, notes that couples are usually unaware they can trade the child exemption on their tax returns in different years and that some custodial parents gun for more alimony than child support, not realizing that alimony is taxable as income.
Even in simpler cases like uncontested divorce, these fallacies hold true, notes MyDivorcePapers (MDP). A spokesperson for the company states that couples often get so focused on one specific aspect of the divorce settlement - their "make or break point" - that they don't realize the other areas where they might be losing out.
"Far too many couples are allowing emotions to dictate their behaviors through the divorce process," the spokesperson explained. "This is to a degree understandable. After all in about 80 percent of the cases that we see come through our site, only one party wants the divorce. This often means that either one party alone is thinking of the divorce as a business negotiation or neither are. It can certainly cloud their judgment."
To avoid many of the most common financial pitfalls that come with divorce, MDP recommends that, firstly, couples look past the immediacy of their emotions and realize that they'll have more living to do in the long term than the short. "Don't allow the emotional part of your divorce to dictate things like paying bills on time, defaulting on your mortgage, and other financially disastrous consequences that can come from being stuck in a rut of not caring what happens post-divorce," the spokesperson said. "Eventually, you'll get past it, and you don't want to make personal, careless financial mistakes now that could make like difficult on you later."
Secondly, the site recommends avoiding hurtful actions like hiding assets or revenge spending. While it may result in a short-term jab at your spouse, the fallout will also affect your credit and, in the case of hiding assets, could even cause legal troubles if the attempt comes to the attention of a judge.
Finally, sit down and look at all assets and weigh the realities of what you're giving up versus what you stand to gain. "As in the example from Ms. Spencer," the MDP spokesperson said, 'be clear on the repercussions of what you want. The alimony versus child support thing is a perfect example. Divorce settlements have many moving parts, and you should always be asking yourself the question, "If I gain this, what will I be losing?"
###
MyDivorcePapers.com provides affordable divorce forms for couples in agreement regarding their divorce plans. Clients seeking this method benefit from he assistance of affordable rates and dedicated case managers, who work to ensure accuracy each step of the way.