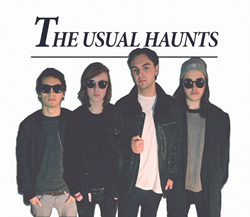 "The Usual Haunts brings together a collective powerhouse of musicianship and songwriting ability that will make its mark on the Indie Rock genre. Music fans are in for an amazing ride!" Jon Murray, Managing Partner, Pool Swimmer Records
San Francisco, CA (PRWEB) December 18, 2015
Pool Swimmer Records signed an exclusive recording and publishing contract with the multi-talented Indie Rock group, The Usual Haunts, on December 17, 2015.
The Usual Haunts line up will feature current Pool Swimmer Recording artists, Noirre (Lead vocals and Rhythm Guitar) and NATVE (Lead Guitar). Rock and Jazz drummer, Noah Corbitt will anchor the rhythm section on Drums and multi-instrumentalist, Dustin Soares will play keyboards for the band.
The Usual Haunts will release 2 full-length albums during the initial 3 year contract term and tour in support of each release. The group will also serve as the live band supporting tours for Noirre and NATVE releases. The Usual Haunts digital catalog will be made available worldwide through iTunes, Amazon, Google Play and more; in addition to all physical distribution channels for Pool Swimmer Records.
The Usual Haunts is currently rehearsing to support Noirre's upcoming 2016 tour. The Usual Haunts are also writing for their debut album on Pool Swimmer Records and are scheduled to begin recording in early May 2016.
Follow The Usual Haunts on Twitter @TheUsualHaunts
About Pool Swimmer Records
Pool Swimmer Records is an independent record company and publisher that works with musicians, songwriters and producers to create great rock and pop records with a West Coast vibe. Our artists enjoy unparalleled freedom to make the records that are true to who they are and that we are proud to share with the world.