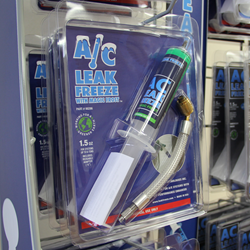 Baltimore, MD (PRWEB) March 07, 2016
AC Leak Freeze, an air conditioning and refrigerant systems sealant for the HVAC industry has partnered with noted east coast packaging services provider Case Mason for the broad scope of their contract manufacturing needs. Available in three variations, AC Leak Freeze products require specific custom packaging due to the contents containing a pre-loaded dispensing syringe. With their expertise in full service contract packaging, Case Mason is the ideal partner for AC Leak Freeze as the product gains strength in the marketplace. Working closely with AC Leak Freeze, Case Mason completed a package re-design for each product, while lowering material and production costs overall. Additionally, Case Mason assumed responsibilities for handling customer orders and order inquiries to facilitate a more efficient sales and fulfillment process.
A combination of company growth and the need to improve operations led AC Leak Freeze to contact Case Mason regarding their full service capabilities including inventory management, procurement of packaging materials, shipping and customer service. With each Leak Freeze product containing two active agents, an important component of the manufacturing process requires the formulations to be blended at the exact moment of individual filling. Case Mason provides the highest quality precision care during this critical stage and throughout the entire production.
"Having Case Mason as our contract manufacturing partner has saved us a great deal of time and money," says Greg Tolker, Vice President at Universal Technologies (parent company of AC Leak Freeze). "Our trust and confidence in their ability to provide seamless service in a full production setting has allowed us to direct our focus on sales, marketing and customer experience. Before Case Mason, we worked with two different packaging firms, but neither had the expertise or quality we needed and our production and costs suffered. We learned valuable lessons, which led us to where we are now. As our products gained traction, we wanted to find one firm that would grow with us and we could trust. Sometimes it's wisest to pay more for a better solution, especially when you save greatly in the long run. Case Mason became our backbone. They are fantastic to work with and provide all the support that our customers expect. This is what a true partnership looks like; it's seamless because it works."
Case Mason's commitment to the client's business growth is inherent in their corporate culture. Continually seeking ways to optimize processes and best practices, this is evidenced in their partnership with AC Leak Freeze. By Case Mason taking on extended production responsibilities such as introducing automation and streamlining the ordering process, AC Leak Freeze can rely on and trust in their contract manufacturer at every step.
"It's great to be able to help facilitate the complete production process for AC Leak Freeze," says Scott Miller, Chief Growth Officer for Case Mason. "With their approval, we took the entire operation over, including refining the product formula, sourcing components, designing new packaging with improved aesthetics for point of purchase, and creating a customized filling line. In addition, we handle orders, shipping, fulfillment, and dedicated customer service. We value our partnership as the contract manufacturer for AC Leak Freeze and do everything we can to support them. The team at AC Leak Freeze knows we're a phone call away ready to handle anything they need."
There are currently plans in the works for growth at AC Leak Freeze, and Case Mason is helping with development, design, facilitation, and supply chain responsibility. Case Mason works closely with clients in niche markets like AC Leak Freeze, and is a trusted partner in their success, as noted by Greg Tolker's comment, "We wouldn't be growing and expanding were it not for Case Mason."
ABOUT CASE MASON
With an uncompromising approach to quality, service and customer satisfaction, Baltimore, MD-based Case Mason has been a leading East Coast provider of contract manufacturing, packaging, sourcing and fulfillment services since 1974. The company specializes in the production and packaging of cosmetics, foods and spices as well as home, specialty and industrial use products. Working in close partnership with its customers, Case Mason offers a turnkey solution for brands ranging from global to regional. Brands select Case Mason time and again for the company's unique blend of professionalism, personal attention, fair pricing, high quality, and ability to consistently meet production deadlines.
For more information on Case Mason, or to schedule a tour of its facility, please visit http://www.casemason.com, or contact:
Stephanie Simpson
Senior Client Relations & Marketing Manager
Case Mason
9101 Yellow Brick Road, Suite I
Baltimore, MD 21237
T: 410-687-0007
E: ssimpson(at)casemason.com
For additional press information, please contact:
Ed Delia
Delia Associates
T: 908-534-9044
E: edelia(at)delianet.com