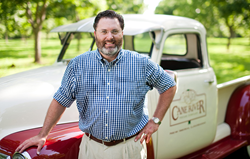 The Fighting Tiger spirit is alive and well at Cane River Pecan Company.
Baton Rouge, La. (PRWEB) December 18, 2015
Cane River Pecan Company, a Louisiana-based industry leader in custom corporate gifting, was included on the 2015 LSU 100: Fastest Growing Tiger Businesses, a ranked listing announced at the Honoree Luncheon held in Baton Rouge, La.
The LSU 100, hosted by the Stephenson Entrepreneurship Institute, is a highly competitive program that identifies, recognizes and celebrates the 100 fastest growing Tiger-owned or Tiger-led businesses in the world. In addition to celebrating the success of the honorees, the LSU 100 provides a forum to pass lessons on to the next generation of LSU entrepreneurs.
The Regard family has been involved in the pecan industry for over 45 years. Dan and Joe Regard first acquired a stretch of pecan orchards along the historic Cane River in Natchitoches parish in 1969. For many years, they farmed the orchard, gradually finding a niche in the gourmet pecan gift trade.
Now run by Chief Nut Officer Jady Regard, an LSU alumnus and Louisiana native, Cane River Pecan Company exemplifies strong family-ownership values and a commitment to providing quality pecans and customer service.
When asked about his company's inclusion in the LSU 100, Regard responded, "As a business owner and LSU alumnus, it's a great feeling to know that, not only are we succeeding as a brand, but we're also paving the way for future entrepreneurs. The Fighting Tiger spirit is alive and well at Cane River Pecan Company."
Interim Director of the Stephenson Entrepreneurship Institute Robin Kistler said, "All of the companies honored at this year's event embody the entrepreneurial spirit of the LSU community. We are honored to have had the chance to share in their success, and wish them all continued growth and prosperity."
LSU 100 partners include Postlethwaite & Netterville, the LSU Foundation, the LSU Alumni Association, the Tiger Athletic Foundation, Gatorworks, Otey White & Associates, and Paper Rock Scissors LLC.
The nomination period for the 2016 LSU 100 will open early next year. More details will be announced on the LSU 100 website at http://www.lsu100.com.