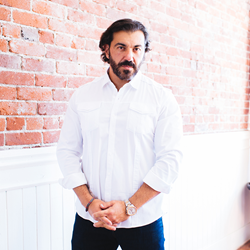 He is one of the great strategic business minds in the fitness industry who has taken dozens of businesses from broke to massive growth in record time
Irvine, Calif. (PRWEB) December 21, 2015
Bedros Keuilian, creator of PTPower and founder of the popular Fit Body Boot Camp franchise, presents the 2016 Fitness Business Summit taking place March 18-20, 2016 in Irvine, California. AJ Roberts, powerlifting champion and one of the leading marketers and copywriters in the world, will be giving coaching sessions during the summit.
Next year's event is set to be the largest in the series, with multiple fitness business experts giving coaching talks to boot camp owners, personal trainers, fitness professionals and coaches on marketing techniques and how to succeed in the industry. The event will be niche market friendly and is open to those that are new to the industry as well as veterans.
AJ Roberts is a former powerlifter who, in 2011, set a World Record total of 2825 lb, and a year later joined the bodybuilding circuit in his quest to lose weight. Despite his massive success during this time, AJ admits that he never truly felt happy and couldn't figure out why. It wasn't until he allowed himself to be driven by passion instead of money that he succeeded in turning himself into the hidden ace that he is today.
"He is one of the great strategic business minds in the fitness industry who has taken dozens of businesses from broke to massive growth in record time," states Bedros. "What many don't know is that AJ has also been the secret weapon behind many of the biggest product launches and businesses in the web across multiple industries."
Born and raised in England, AJ came to America to become an athlete, but immigration laws held him back from completing this goal. He pursued a different path through strength training which became a catalyst towards becoming a world record holder, seminar leader and highly coveted strength coach on top of being a successful fitness industry entrepreneur. Through years of hard work and practice, AJ was able to reach his goals and became the ultimate marketing and copywrite expert in the world.
Many describe AJ as a hidden gem in the marketing world, and he uses his skills to push businesses to the top of their brackets. He uses the hardships he's overcome as a tool to help others succeed.
Fitness Business Summit takes place March 18-20, 2016 in Irvine, California. Attendees are encouraged to wear fitness casual and comfortable clothing during the main event and bring cocktail party attire for the networking party. To learn more about the event, visit the official website: http://fitnessbusinesssummit.com/
About PTPower:
To find out more about Bedros Keuilian, his company PTPower.com and the fitness boot camp franchise, Fit Body Boot Camp, contact Bedros Keuilian at (800) 261-0208. Alternatively, you may use the contact form at http://ptpower.com/contact-me/ or send an email to Bedros Keuilian at support(at)keuilian(dot)com.