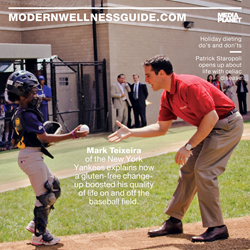 New York, NY (PRWEB) December 18, 2015
In particular, this year's campaign highlights how Celiac Disease affects the body, as well as how sticking to a strict gluten-free diet is the only available treatment for the millions suffering from the disease.
The print component of "Digestive Wellness" is distributed within today's edition of USA Today, in New York, Los Angeles, Dallas, South Florida, Denver, Chicago, Atlanta and Houston with a circulation of approximately 450,000 copies and an estimated readership of 1.3 million. The digital component is distributed nationally, through a vast social media strategy, and across a network of top news sites and partner outlets. To explore the digital version of the campaign click here.
This edition of "Digestive Wellness" was made possible with support from The Schwan Food Company, a company whose core purpose is achieved through the efforts of Schwan subsidiary employees who share five common values: growth, hard work, helping one another, enthusiasm and integrity. Freschetta, Schwan's gluten-free frozen pizza line, was launched in 1996 and has been a large player in the frozen foods aisle ever since.
Freschetta® pizzas are part of the national brand portfolio of Schwan's Consumer Brands Inc., the retail grocery subsidiary of The Schwan Food Company. Based in Bloomington, Minn., Schwan's Consumer Brands Inc. has marketed and distributed premium frozen foods since 1970. Its brands include Red Baron®, Freschetta® and Tony's® pizzas, Pagoda® snacks and appetizers, Larry's® potatoes, and Mrs. Smith's® and Edwards® pies and desserts. The brands are represented in more than 50,000 retail outlets across the United States. For more information about Freschetta® pizzas, visit Freschetta.com.
This campaign was made possible with the support of the Celiac Disease Foundation, the National Foundation for Celiac Awareness, and many more.
About The Schwan Food Company
The Schwan Food Company is a privately held business that manufactures and markets quality foods through home-delivery, retail-grocery and food-service channels. Its many popular brands include Red Baron®, Tony's®, Bon Appétit® and Freschetta® pizza, Mrs. Smith's® and Edwards® desserts, Pagoda® snacks and appetizers, and Schwan's® fine frozen foods. Based in Minnesota for 63 years, the company's subsidiaries employ 13,000 people in the United States. To learn more about Schwan, visit us at http://www.theschwanfoodcompany.com.
About Mediaplanet
Mediaplanet is the leading independent publisher of content-marketing campaigns covering a variety of topics and industries. We turn consumer interest into action by providing readers with motivational editorial, pairing it with relevant advertisers and distributing it within top newspapers and online platforms around the world.