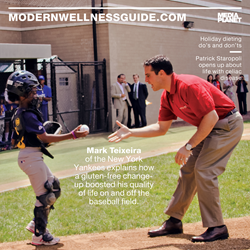 "I had the best season I'd had in seven years … I didn't need to take anti-inflammatories."
New York, NY (PRWEB) December 18, 2015
Today, in the United States alone, there are currently 60-70 million people affected by digestive diseases, contributing to over 245,000 deaths each year. Despite these numbers, the stigma surrounding digestive disorders remains, and many individuals experiencing symptoms do not seek help from a gastroenterologist.
In an effort to debunk that stigma, this campaign educates readers on the different forms of digestive disorders, and provides hope to those who are currently living with some form of digestive ailment.
The print component of "Digestive Wellness" is distributed within today's edition of USA Today in New York, Los Angeles, Dallas, Houston, South Florida, Denver, Chicago and Atlanta, with a circulation of approximately 450,000 copies and an estimated readership of 1.3 million. The digital component is distributed nationally, through a vast social media strategy, and across a network of top news sites and partner outlets. To explore the digital version of the campaign, click here.
Mark Teixeira of the New York Yankees graces the cover of the print publication. Through an exclusive interview on the interior, he opens up about a dietary change that drastically improved his health. Of the impact of this new, gluten- and dairy-free diet, Mark says, "I had the best season I'd had in seven years … I didn't need to take anti-inflammatories." He acknowledges the difficulty in maintaining a stringent meal plan, but ultimately stresses, "You have to break through the idea of food as comfort. Your body thanks you when you start eating well."
This campaign was made possible with the support of the American Gastroenterological Association, NASCAR racer Patrick Staropoli, the International Foundation for Functional Gastrointestinal Disorders, the National Foundation for Celiac Awareness, the Celiac Disease Foundation, Dr. Gil Melmed of Cedars-Sinai, The Crohn's and Colitis Foundation of America, The American Society for Gastrointestinal Endoscopy, Culturelle, Allergan/Ironwood, The Schwan Food Company, Apollo Endosurgery, Elsevier/Ferring Pharmaceuticals, Puroast Coffee, Simple Mills and many more.
About Mediaplanet
Mediaplanet is the leading independent publisher of content-marketing campaigns covering a variety of topics and industries. We turn consumer interest into action by providing readers with motivational editorial, pairing it with relevant advertisers, and distributing it within top newspapers and online platforms around the world.