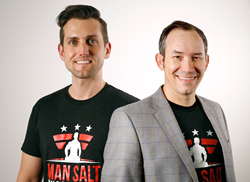 I'm excited about the future of ManSalt. I can see it growing from a niche business into a national brand." -- Roger Janik, CEO, Fair Marketing
Houston, Texas (PRWEB) December 18, 2015
In February 2015, ManSalt became a finalist in the annual Vet Biz Battle and caught the eye of Roger Janik, a local entrepreneur and marketing expert. In short succession, ManSalt gained a new investor and business partner, forming a partnership that now comes to fruition with the re-launch of ManSalt.com.
ManSalt started out as a unique company with a simple idea: that relaxing mineral bath soaks should be available in masculine scents, not just feminine ones. Now, ManSalt is re-launching its website with an innovative look, feel, and more ordering and payment options to better serve its customers.
The company's owner, Houston entrepreneur Austin Hill, is a West Point graduate and military veteran who impressed Janik with his drive and vision for the ManSalt company. Janik decided to personally invest in ManSalt after hearing Hill's presentation at the 2015 Vet Biz Battle. It turned out Janik was exactly the kind of partner ManSalt needed to grow—as a digital marketer with 11 years of experience. Janik knew what it would take to get ManSalt to flourish.
"The partnership with Roger has taken ManSalt to a whole new level," said Hill, who also holds an MBA from UT Austin. "I see great potential for the company's growth in 2016, and couldn't have hoped for a better marketing advisor who also played a hands-on role in the growth, improvement and re-launch of ManSalt.com."
Janik isn't just Hill's biggest investor. He is also the co-founder of the Vet Biz Battle and an active member on the Vet Biz Battle Board of Directors. Vet Biz Battle is a competition designed to promote veterans' startup and growing businesses, with prizes being awarded to the best concepts. Janik said his partnership with Hill was exactly the sort of thing he'd hoped to achieve when he helped launch the inaugural competition last year.
"I'm pleased the Vet Biz Battle's first year was such a success, and I'm happy to be a part of an event that supports our veterans," says Janik. "I'm thrilled to have found a finalist and partner I can join forces with, and I'm excited about the future of ManSalt. I can see it growing from a niche business into a national brand."
The 2016 Vet Biz Battle will be underway in February. The battle is designed to provide veterans with a platform for promoting and receiving funding for their business ideas. Winners receive mentoring from a board of advisors made up of successful entrepreneurs and business leaders in addition to receiving investment offers. For more information, visit http://www.vetbizbattle.com.
About ManSalt
ManSalt is a unique line of bath products designed especially for men. The company offers a full line of masculine-scented salts designed to soothe sore muscles and ease stress. It's perfect for bodybuilders, athletes, and hardworking guys who want, need and deserve the benefits of a salt bath, but who don't want to smell like lilac, lavender, or rose.
More information can be found at http://www.mansalt.com, or by contacting Austin Hill at sales(at)mansalt.com.