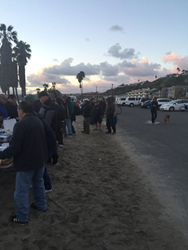 Dana Point, CA (PRWEB) December 18, 2015
Ocean Hills Recovery, Inc. teamed up with the Welcome In Organization on Wednesday November 25, 2015 to feed the homeless of Dana Point, CA. The Welcome In Organization is a non-profit organization that feeds the South Orange County homeless population every Wednesday at Doheny State Beach. Ocean Hills Recovery was pleased to step in and assist with preparing and serving a Thanksgiving Feast for the homeless at the State Beach. OHR provided the food and cooking volunteers to make the Thanksgiving Feast for the homeless.
Current clients of OHR were brought to the beach to assist in serving the meal. This activity was created not only to give back to the Dana Point community, but also to give the OHR clients and staff alike an understanding of the importance of volunteering and getting involved in our communities with positive outreach programs.
OHR would like to extend a huge thank you for everyone who participated in the event, and would also like to thank The Welcome In Organization for providing OHR with a cooking facility.
OHR offers 30, 60, and 90 day residential drug and alcohol treatment programs. They provide a variety of different drug and alcohol rehab programs to ensure a successful, healthy future. Their programs include individual, group and family therapy, along with yoga, gym, home-cooked meals and a staff which includes a psychiatrist and licensed psychologists. Ocean Hills Recovery offers affordable but successful (73% success rate) drug and alcohol detox and treatment. Treatment is often covered by many common insurance but they also have private financing available. Along with their inpatient facilities, OHR offers transitional living residences in the beautiful city of Dana Point, California.
###
Contact:
Ocean Hills Recovery, Inc.
949.547.1064
info(at)oceanhillsrecovery.com
http://www.facebook.com/OceanHills